According to Genworth's Cost of Care Survey 2020, seniors in Pennsylvania can expect to pay an average of $3,955 per month to live in an assisted living community, which is less than the national average of $4,300. Pennsylvania does not offer a program to help low-income seniors with assisted living expenses, but an Eldercare Bridge Loan may help. It allows seniors to enter assisted living facilities when needed while their families gather funds within the next 12-18 months.
10 Best Assisted Living Facilities in Pennsylvania
Asbury Springhill, Erie
Asbury Springhill has earned accreditation from CARF International (Commission on Accreditation of Rehabilitation Facilities), a distinction earned by less than 20 percent of the country's continuing care communities. This gives residents and their family members peace of mind that as needs increase, high quality personal care, memory support, rehabilitation therapy and skilled nursing services will be available. Each senior who enters Asbury receives a personalized care plan and can arrange to live with or near a spouse or friend. A full schedule of activities is provided each day, and there is plenty of space to spend time outdoors on wooded walking pathways.
Cost begins at $3,600 per month.

Bickford of Presque Isle Bay, Erie
Bickford of Presque Isle Bay is located near Perry's Landing Marina, offering residents picturesque views. Its location in a walkable neighborhood allows seniors to stroll near the shoreline with their pets or visiting family members. Personalized care plans are provided to each resident including assistance with activities of daily living, medication management, and meals that meet dietary restrictions. Games such as Heads Up and Balloon Volleyball make living at Bickford fun for everyone.
Cost begins at $5,252
Homeland Center, Harrisburg
Founded in 1871, Homeland Center is a non-profit continuing care community where residents receive just enough support to remain as independent as possible. Skilled caregivers are on-site 24 hours a day to help with grooming and medications, while lab testing, podiatry, hearing evaluations, and physical therapy services are available if needed. A full calendar of activities includes bingo, fitness classes and church services. And walking paths provide the perfect place to socialize outdoors with friends and family.
Cost begins around $6,800 per month.
Brethren Village, Lititz
Brethren Village is rooted in the Church of the Brethren, with a mission to provide Christ-like care and to enhance the spiritual, physical, social and emotional wholeness of seniors. Residents enjoy amenities such as an onsite swimming pool, movie theater, beauty salon and residential gardens, as well as day trips and birthday parties. Multiple dining venues allow seniors to choose foods that suit their preferences, and guests are always welcome to join loved ones for meals in the Village Center Bistro.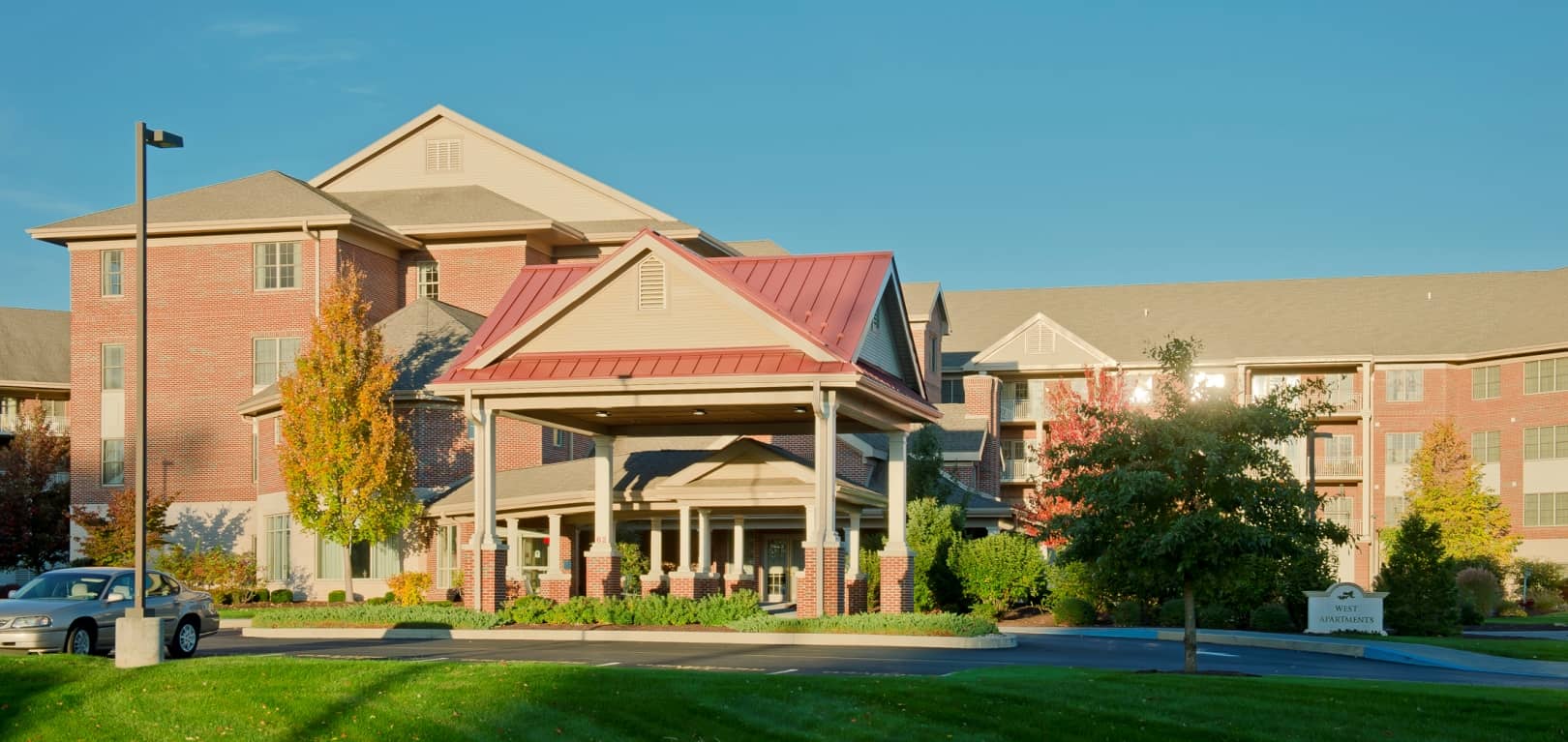 Bethany Village, Mechanicsburg
Bethany Village was the second continuing care retirement community to be licensed as an Assisted Living Residence by the Pennsylvania Department of Aging. It's located on a quiet, tree-lined campus and offers a wide array of amenities including an aquatic center, fitness room, pharmacy, and walking trails. Residents enjoy outings to local restaurants, parks, and theaters, as well as a long list of social activities onsite. Dining options are plenty, including a sports bar, restaurant, bistro, and cafe.
Cost begins around $5,500 per month.
Hayes Manor Retirement Residence, Philadelphia
Hayes Manor is an independent not-for-profit community established in 1886. With just 54 private assisted living rooms, each resident receives discrete personalized assistance with bathing and dressing in their own homes. Caretakers accompany residents on weekly shopping trips via a dedicated community van, and an activity staff coordinates programs such as painting and yoga classes. A weekly "social hour" is a favorite with residents, and birthdays always require a celebration.
Cost begins around $2,000 per month.
Brookdale Mt. Lebanon, Pittsburgh
Brookdale Mt. Lebanon is located in a family-friendly neighborhood near numerous parks and schools. A dedicated Personal Care Home on campus is for seniors who need help available 24/4 by a licensed staff. Residents live in spacious apartments with private baths and kitchenettes, and some floor plans include balconies. A therapy pool is the perfect place for seniors to work on gaining mobility while working with physical therapists. Family members may join loved ones for meals in the private dining room and even stay overnight in guest suites. Brookdale communities are rated Number One in Customer Satisfaction by J.D. Power and Associates.
Cost begins around $5,000 per month.
Scranton Manor Personal Care Community, Scranton
Scranton Manor strives to enhance the social, emotional and physical wellness of seniors. Residents participate in group games, fitness classes and holiday celebrations, and enjoy visits with therapy dogs. Private and companion suites include full bathrooms, cable, telephone and emergency call response systems, and meals are served in a cozy fireside dining room. A full staff of expert physicians, nurses and caregivers ensure that each resident stays healthy and happy.
Cost begins at $2,850 per month.
Brereton Manor, Washington Boro
Brereton Manor is located along the Susquehanna River in Pennsylvania's farming country. The intimate facility is surrounded by horses grazing in their pastures, which residents love to watch as they walk around the property; they can even be ridden by visiting grandchildren! The farm-town location allows Brereton's culinary staff to serve meals featuring fresh vegetables and delicious seasonal dishes. A library and fitness room are onsite, and a professional nurse, physical therapist and occupational therapist are available as needed.
Cost begins around $4,000 per month.
Pine Manor Home, York
Pine Manor Home provides personal care and medication assistance to up to 29 seniors needing a moderate amount of help. One bedroom apartments include utilities, cable TV, local phone, Wi-Fi, and weekly laundry and housekeeping services. A rotating menu provides a variety of meal choices three times a day.
Cost begins around $3,800 per month.