According to Genworth's Cost of Care Survey 2020, the average cost of assisted living in New Jersey is about $2,000 more than it is in the rest of the country. Because of this, seniors may want to look for assisted living facilities that accept Medicare, or possibly even Medicaid if they qualify. In New Jersey, Medicaid's Managed Long Term Services and Supports (MLTSS) program offers financial compensation to help pay for personal assistance services provided in a private home, assisted living facility, adult foster care, or adult day care.
10 Best Assisted Living Facilities in New Jersey
Atria, Cherry Hill
At Atria Cherry Hill seniors are encouraged to be active each day with a variety of available amenities and activities. Whether it's a walk with friends around the courtyard, an outing to the local produce market, or a new art class, there's always something for residents to look forward to. Spacious common areas like the living rooms, country kitchen, and bistro are perfect places to socialize, while cozy apartments offer privacy to relax and unwind. A nurse is always on staff to meet personal health care needs and oversee medication management.
Cost begins around $5,000 per month.
United Methodist Communities, Collingswood
United Methodist Communities at Collingswood is located in historic Collingswood with shops, restaurants, and parks within walking distance. Nurses and aides are onsite 24 hours a day to offer assistance, with a goal to allow residents to remain in their own apartments even as needs escalate. Three customized communities include one serving seniors in cognitive decline, one serving seniors who need high-level assistance with activities of daily living, and one for those needing more "nursing home" level care.
Cost begins at $4,394 per month.
Sunrise, East Brunswick
Sunrise of East Brunswick strives to deliver a holistic senior living experience. Activities are specially designed to appeal to each resident's interests and abilities, and range from exercise classes to gardening and music therapy. A community shuttle takes seniors to local shops, restaurants, and medical facilities, and three nutritional meals are served each day. Housekeeping and laundry services are also included.
Cost begins around $4,000 per month.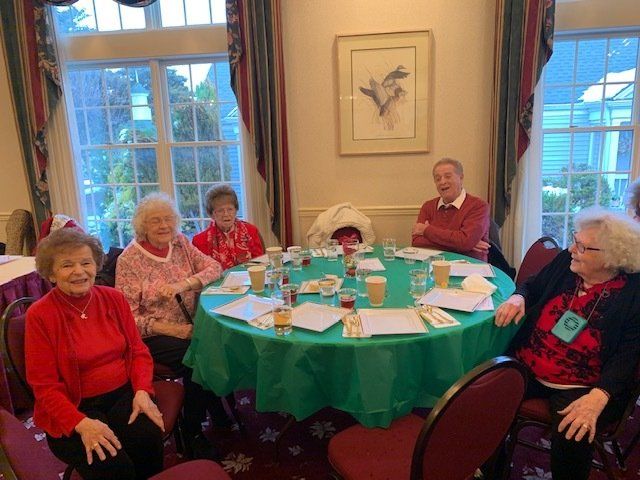 Colonial Manor at Panther Valley, Hackettstown
Situated on eight acres complete with a fishing pond, Colonial Manor at Panther Valley offers a living experience that feels just like home. Residents can relax in their private rooms whenever they choose, or head out to enjoy live entertainment, games, and dinner with friends. Family members are always welcome to visit, and often love to join their loved ones for holiday celebrations throughout the year. A 24-hour staff is available for assistance with medications and personal care, while in-house physical therapists and physicians ensure residents are getting all the care they need.
Cost begins at $2,200 per month.
Reformed Church Home, Old Bridge
Reformed Church Home is known for their compassionate team who treats residents like family. Certified nursing assistants are available 24/7, a registered nurse is there daily to oversee medical care, and a geriatric physician visits residents at least once a week. A full time activities director creates a fun schedule of social activities, and a dietician ensures that all meals are meeting residents' nutritional needs. For seniors who wish to partake in religious services, an ordained Reformed Church (Christian) minister coordinates programs for varied denominations.
Cost begins around $4,000 per month.
CareOne at The Cupola, Paramus
Seniors at CareOne at The Cupola enjoy a community with plenty of amenities for comfort and convenience. Whether they are in the health spa, exercising in the fitness center, or participating in one of the many games in the activity room, residents know that a caring staff is always nearby to offer assistance. Fresh, nutritious meals are served three times daily in the dining room, but all apartments have their own kitchenettes with refrigerators and microwaves for seniors who enjoy eating snacks and light meals at home.
Cost begins at $6,000 per month.
CareOne at Parsippany, Parsippany
Seniors who love nature enjoy living at CareOne at Parsippany. The community is surrounded by parks and lakes, and not far for an excursion to Jersey Shore. On campus, a wide array of activities aims to enhance physical, social and intellectual wellness. Residents also have access to onsite nursing care and physical therapy services, and complimentary transportation to medical appointments at nearby hospitals. Each spacious apartment has a walk-in shower, a kitchenette, and an emergency call system.
Cost begins at $7,500 per month.
Brighton Gardens, Saddle River
At Brighton Gardens of Saddle River, seniors are cared for 24/7 by an attentive staff, but are also close to top healthcare facilities if needed. The community offers a continuum of care to serve residents in each stage of aging, from medication reminders to assistance with bathing, to skilled nursing. An extensive activity calendar provides plenty of opportunities to socialize while exploring new hobbies, and a beautiful landscaped garden provides the perfect place to enjoy the outdoors.
Cost begins at $3,450 per month.
Spring Oak, Toms River
Spring Oak at Toms River is newly renovated to provide modern facilities while maintaining a charming, homey, environment. Amenities include a computer room, a TV room, a fitness room and bistro, and a patio area for taking in fresh air. A skilled nursing team oversees medication management and health care needs, and residents can opt for visits from third-party medical specialists. Family and friends are invited to join residents for dinner or even overnight visits.
Cost begins at $7,000 per month.
Sunrise, Wall
At Sunrise of Wall, residents are always having fun. From excursions to the Jersey shore to onsite activities like trivia games and crafts, there's never a reason to be bored. Caregivers are always around to help with activities of daily living, and weekly housekeeping and laundry services are included in the cost. Small dogs and cats can live with their owners, and family members are encouraged to visit regularly.
Cost begins at $3,800 per month.