According to Genworth's Cost of Care Survey 2019, seniors in Missouri can expect to pay an average of $2,881 per month to live in an assisted living facility, which is well below the national average of $4,051. To help low income individuals pay for the cost, Missouri's Medicaid program offers a Supplemental Nursing Care (SNC) program which provides a cash payment of up to $292 per month to assisted living residents, as well as a $50 personal needs allowance.
10 Best Assisted Living Facilities in Missouri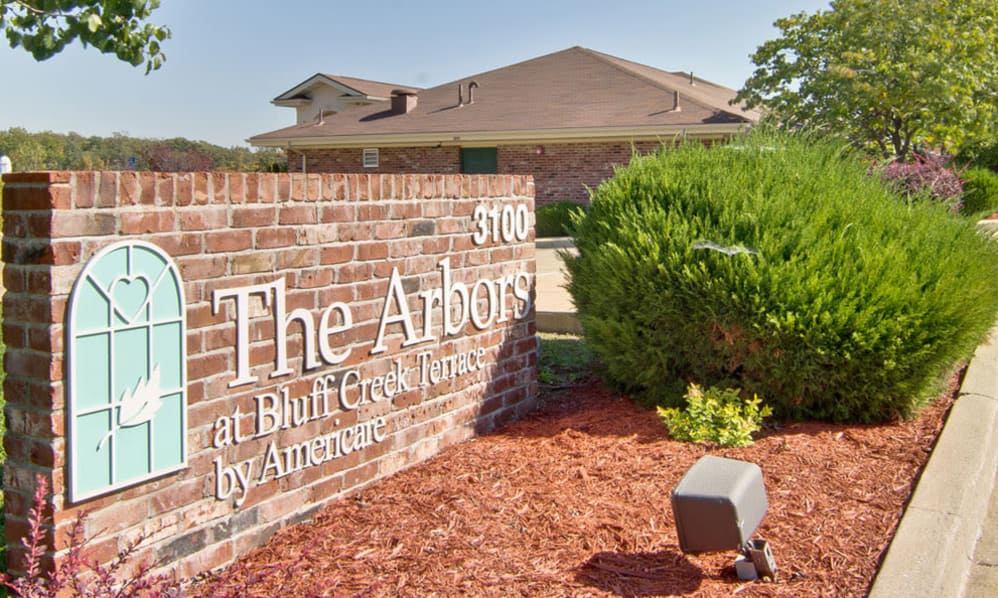 Bluff Creek Terrace, Columbia
Bluff Creek Terrace offers monthly activities centered around the seven dimensions of wellness – social, emotional, spiritual, environmental, occupational, intellectual, and physical. Whether participating in pet therapy, Bible study, yoga or bingo, residents enjoy a wide variety of activities that exercise their minds and bodies. A caring staff is available 24-hours a day to help with bathing and dressing, and each apartment is equipped with an emergency call system. Residents enjoy three fresh meals each day including made-to-order breakfast omelets.
Cost begins around $4,500 per month.
Autumn View Gardens, Ellisville
Autumn View Gardens is a faith-based facility that strives to ensure spiritual health and overall well-being. The facility is all one level, allowing residents to easily maneuver between community rooms and their apartments. A licensed nurse performs regular health assessments, and onsite pharmacy, podiatry, and rehabilitation services are available. Since dining times are flexible, residents can eat when they prefer, and a coffee shop is available for snacks and beverages. Pets are welcome, and visiting family and friends are welcome to join residents for meals.
Cost begins around $2,500 per month.
Anthology of the Plaza, Kansas City
Residents of Anthology of the Plaza love that they can step outside to browse unique gift shops and boutiques, but can schedule transportation if they want to explore a little farther. Each modern apartment is filled with an abundance of light, and housekeeping and maintenance are included. Whether residents want to eat in the formal, restaurant-style dining room or grab a snack in the bistro, it's their choice. And care team members are available around the clock for anyone who needs help.
Cost begins at $4,300 per month.
Waterford South, Kansas City
Waterford South may be Kansas City's most affordable assisted living facility, but that doesn't mean it lacks in quality care. With only 28 residents, seniors are able to receive personalized attention in a home-like atmosphere and enjoy engaging activities like exercise classes and crafts. Biweekly in-house doctor visits ensure that seniors are staying healthy, and a 24-hour staff helps residents with medications and grooming tasks.
Cost begins at $1,400 per month, and they participate in the Missouri Medicaid Cash Grant Program for qualifying individuals.
Happy Valley, Marionville
Happy Valley is within easy access to downtown Springfield, but located on two quiet acres complete with a stocked fishing pond. The intimate residential style home has wheelchair accessible bathrooms, and certified caretakers provide assistance with grooming, laundry, and medication management. Happy Valley also provides complimentary nutritional counseling services for all residents.
Cost begins at $3,000 per month.
NorthPark Village, Ozark
NorthPark Village is a Life Care facility that offers services from independent living, to assisted living, to rehabilitation and hospice. Residents stay healthy and active in the onsite fitness center, and enjoy socializing while participating in lectures, games, and intergenerational programming. Since cats and dogs play a big part in helping seniors to connect with each other, NorthPark Village encourages residents to bring their furry family members.
Cost begins at $2,500 per month.
Close to Paradise, Springfield
Close to Paradise is an intimate residential style home situated on a peaceful 1-acre property. With a small number of patients, the staff is able to focus on personalized care and safety. Meals are prepared to meet the dietary needs of each resident, and activities are planned to match unique interests and abilities. Each resident has a private, furnished room.
Cost begins at $3,500 per person.
The Boulevard, St. Charles
The Boulevard is a large pet-friendly campus with a holistic approach to senior wellness. The Director of Wellness works with residents, their family members, certified nurses and third party vendors to create individualized care plans. Residents participate in activities such as Wii sports and movie nights, and have access to a swimming pool for recreation and therapeutic needs.
Cost begins at $4,120 per month.
Cardinal Ritter Senior Services, St. Louis
Cardinal Ritter operates two secure assisted living homes for St. Louis seniors who want to live independently but need some help. Each facility provides private apartments with emergency call systems, 24-hour oversight, medication distribution, three nutritious meals per day, a chapel for mass and non-denominational services, personal care assistance, and planned activities. St. Elizabeth Hall is located on the second floor of the Cathedral Tower, behind the St. Louis Cathedral in the Central West End. Mother of Perpetual Help is on the Cardinal Ritter Shrewsbury campus.
Cost begins at $3,022 per month.
Friendship Village, Sunset Hills and Chesterfield
Friendship Village is a faith-based, non-profit community that fosters friendships and wellness by focusing on spiritual, emotional and physical well-being. As St. Louis' only true Life Care community, they offer guaranteed access to higher levels of care — assisted living, memory care, skilled nursing and rehabilitation — for a predictable monthly fee. A nurse is available 24/7 and residents enjoy delicious meals, transportation to local events and venues, and a wide array of social and recreational activities. There is even a Bridge transitional community available for seniors who may need memory care in the future.
Cost begins at $3,600 per month.