Retirees head to Florida not only to escape cold weather, but because Florida has no state income tax, which means Social Security retirement benefits, pension income and income from an IRA or a 401(k) are all untaxed. Florida also has programs that make living in assisted living facilities more affordable for lower income seniors.
Medicaid's Managed Care Long-Term Care Program (SMMC LTC). Also referred to as a nursing home diversion program, this allows Medicaid eligible seniors to receive reimbursement for services in their home or in assisted living facilities. Needy seniors must require nursing home level care and be financially eligible. To qualify financially, the income limit for a single applicant is $2,382 per month, and if married and both parties are applying, the joint income limit is $4,764 per month. However, a couple has more options if only one spouse is applying. The spouse who needs care has the income limit as an individual applicant, while the spouse who is not applying can keep enough income from their spouse to be able to continue living independently. In this case, the applicant spouse can allocate his or her income to the healthy spouse, which helps the applicant spouse to qualify for Medicaid. This is called the monthly maintenance needs allowance.
Also worth noting, if an applicant's income exceeds Medicaid limits, Florida allows excess funds to be allocated to income trusts, and some financial assets can be converted to exempt assets in order to qualify for Medicaid services.
Optional State Supplement (OSS). This non-Medicaid program is a DCF financial grant for low-income individuals who live in an adult family care or assisted living residence. Payments go toward room and board and in most cases, maximum monthly payment is $78.40.
10 Best Assisted Living Facilities in Florida
Woodlands Village, Bradenton
Just south of Tampa along the shores of the Manatee River, Bradenton offers unique shops, beautiful parks, and delicious restaurants. Residents of Woodlands Village live with their pets in individually climate controlled suites with their own patios, and have access to a library, game room, salon, computer room, fitness classes, and three meals per day. Living in the community brings convenience and security to seniors, with a personal emergency response device, linen and housekeeping services, and transportation to appointments. Cost of living at Woodlands is able to stay low since residents choose a la carte services from third-party health care and personal care providers.
Cost begins around $1,800 per month.
Curlew Care, Clearwater
With a capacity of only 26, Curlew Care offers a cozy, homelike community. Family members are welcome to join residents for monthly barbecue and holiday celebrations, and out-of-town guests can even make arrangements to stay overnight. Seniors at Curlew Care stay active and social during regularly scheduled activities, and can always count on 24-hour supervision and assistance from a licensed team of healthcare professionals.
Cost begins around $2,350 per month.
Brookdale Southside, Jacksonville
J.D. Power and Associates rated Brookdale #1 in Customer Satisfaction in 2020, and it's easy to see why. Seniors at Brookdale Southside never have an excuse to be bored. With exercise classes, board games, trivia, bingo, and a swimming pool onsite, there's always something to do and someone to do it with. Brookdale's staff handles the cooking, cleaning, and chores, while residents enjoy life with peace of mind that they'll have help with grooming, medications, and transportation whenever it's needed.
Cost begins around $2,700 per month.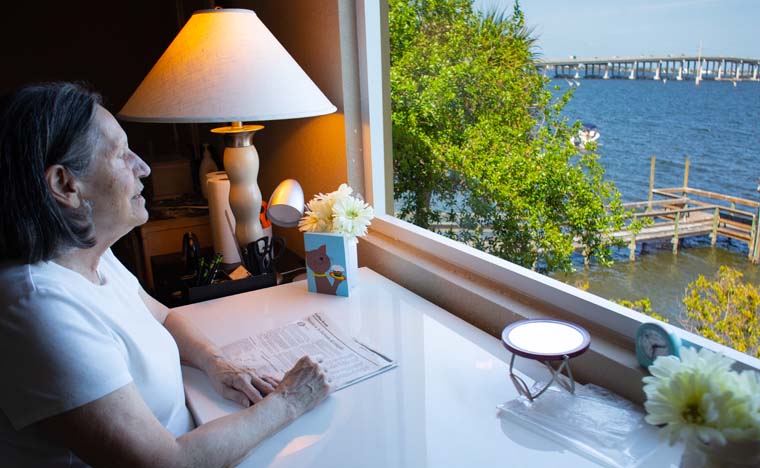 Victoria Landing, Melbourne
With gorgeous views of the Indian River, Victoria Landing is a dream come true for Florida seniors and their families. Not only do they love the waterfront views from their screened apartment patios, but they can also head outdoors to utilize a private dock, putting green, and walking trail. Inside, residents stay physically fit and mentally sharp with a fitness center, craft room, library, and movie theater. As a facility that's licensed through the Agency For Health Care Administration (AHCA), Victoria Landing provides personal care services as well as nursing services such as caring for pressure sores and administration of oxygen.
Cost begins at $4,100 per month.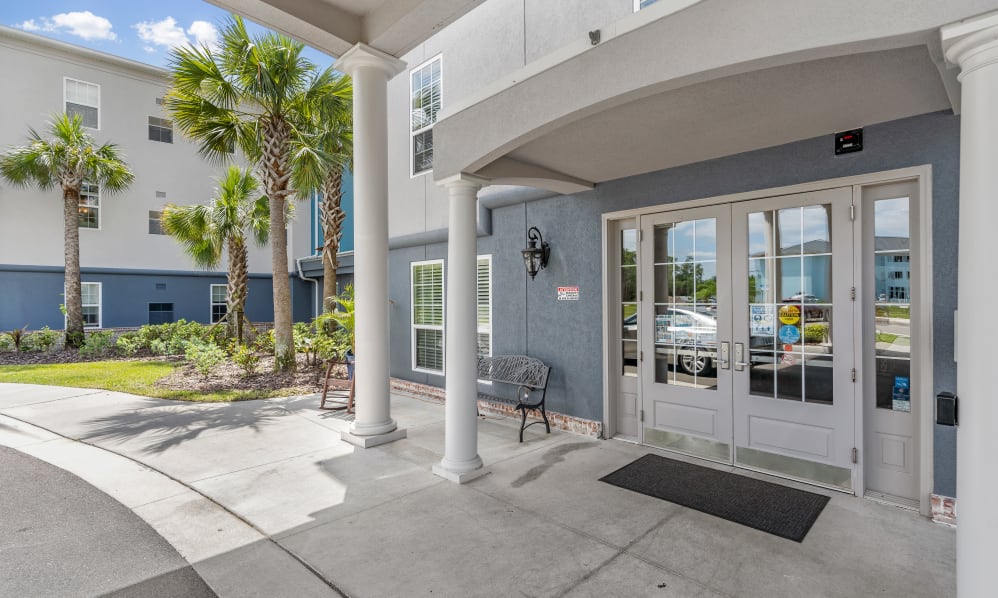 Gentry Park, Orlando
Residents at Gentry Park know there's more to love in Orlando than Disney World. Located close to parks, museums, shopping centers and historical sites, this assisted living community allows seniors to enjoy lots of fun things on and offsite. When they aren't taking organized day trips, residents spend their days strolling the beautiful grounds around the facility or playing games with friends in the games room. Each pet-friendly private suite has its own balcony, and a helping hand is always available for grooming, hygiene, eating, or mobility needs.
Cost is around $3,500 per month.
Homestead Village, Pensacola
Voted Best Assisted Living Facility by Pensacola News Journal, Homestead Village is a not-for-profit community dedicated to helping seniors age in place. Each of 12 cottages are tailored to suit a specific level of care, and care professionals are available around the clock to assist with daily tasks and transportation. With wellness programs tailored to each resident and daily social, cultural and educational activities, residents enjoy an enriching, care-free life experience.
Cost begins at $4,700.
Silver Treasures, St. Augustine
As the nation's oldest European-established city, St. Augustine has lots of history that seniors at Silver Treasures love to explore. A transportation bus takes residents to local attractions, and when back home, they can enjoy a number of amenities onsite. Active seniors love the walking trails and fitness center, while bookworms appreciate the well-stocked library. Loved ones are welcome to visit in several indoor and outdoor spaces perfect for family gatherings, and of course, help is always available for medication and personal care.
Cost begins at $3,060 per month.
St. Augustine Plantation, Tallahassee
This stately mansion, complete with a wraparound porch, offers seniors the picturesque experience of care-free southern living. While staff takes care of housekeeping and cooking, residents are free to spend time with friends shooting pool in the billiards room, taking an exercise class, or reading a book in the sunshine. Companion services are available for help with maintaining a calendar, organizing mail, paying bills, home organization, caring for pets and more. As a licensed Extended Congregate Care (ECC) facility, St. Augustine Plantation is able to offer more extensive care services than other standard licensed communities. So whether your loved one simply needs help with getting dressed or requires catheter care, they'll be well taken care of.
Cost begins at $2,900 per month.
Venice Center for Independence and Assisted Living
Seniors in Venice make up 66% of the city's population, which means the city has plenty of stuff to do that's geared towards the residents in this facility. Located in the heart of downtown, this former historic luxury hotel is just across from Centennial Park and close enough to walk to restaurants, bakeries, and shops. Residents of Venice Center can choose between furnished or unfurnished apartments, and take advantage of the on-site salong, library, and delicious meals. There's never a lack of activities with a busy calendar of movie nights, parties and excursions, but if downtime is needed, plenty of quiet space is available for lounging. Of course, a staff of personal care assistants are around 24/7, and doctors and specialists are always available at the onsite wellness center.
Cost begins at $3,000 per month.
Everlasting Family Home Care Services, West Palm Beach
This family-owned home is dedicated to meeting the physical, mental and spiritual needs of each resident. With a patient-centered approach to care, Everlasting offers activities and support services that allow seniors to have fun while taking care of their overall well-being. Residents enjoy three meals a day and snacks planned by a licensed dietitian, transportation to physician visits, and a comfortable living space for social interaction with neighbors and family members.
Cost begins at $3,400 per month.