According to Genworth's 2020 Cost of Care Survey, seniors in Virginia pay an average monthly cost of $4,850 for assisted living. This is higher than the national average of $4,300, but Virginia offers an Auxiliary Grant program to help low-income seniors pay for the cost of personal care assistance and meals within the facility. The program is funded by the state's Department of Social Services' Department for Aging and Rehabilitative Services, and applicants must reside in approved residences.
10 Best Assisted Living Facilities in Virginia
Hermitage, Alexandria
Hermitage is a faith-based nonprofit community helping seniors live a worry-free life as they age. The facility is committed to The Samaritan Program, believing that residents should be able to afford to continue living in their assisted living home even after they have outlived financial resources. Seniors at Hermitage have 24-hour care available if needed, with access to onsite primary care physicians, psychiatrists, audiologists, dermatologists, and podiatrists, or they can arrange transportation to local health care providers. A robust social calendar features social, recreational, and educational experiences, and delicious meals are served three times a day. Residents are allowed to bring cats, dogs, birds or fish as long as they can take care of them.
Cost begins at $3,960 per month.
Sunrise of Arlington, Arlington
Sunrise of Arlington is housed in a quaint Victorian home with plenty of amenities for seniors. In common areas, residents gather for fitness classes, mental health talks, and discussions about aging related issues such as dementia and finances. Community movie nights are held in the media room, and meals are prepared in a homestyle kitchen and served in a restaurant-style dining room. If residents need help bathing, getting dressed, or managing medications, a caring staff is available 24 hours a day. Sunrise involves family members in the care of their loved ones by hosting social and educational programs, and by posting photos, videos and announcments on their family engagement app.
Cost begins at $3,950 per month.
Commonwealth Senior Living, Berryville
Commonwealth residents enjoy all the comforts of home surrounded by friendly new neighbors and staff members. Whether they are reading books on a screened-in porch, meditating in the garden, or gathering with friends for a card game, help is nearby to ensure their safety. A Travel the World Program brings international art, music, and food to residents, and off-site excursions help them feel like part of the Berryville community. Each suite is equipped with an emergency call response system, and regular family meetings take place to ensure residents' needs are being met.
Cost begins around $3,900 per month.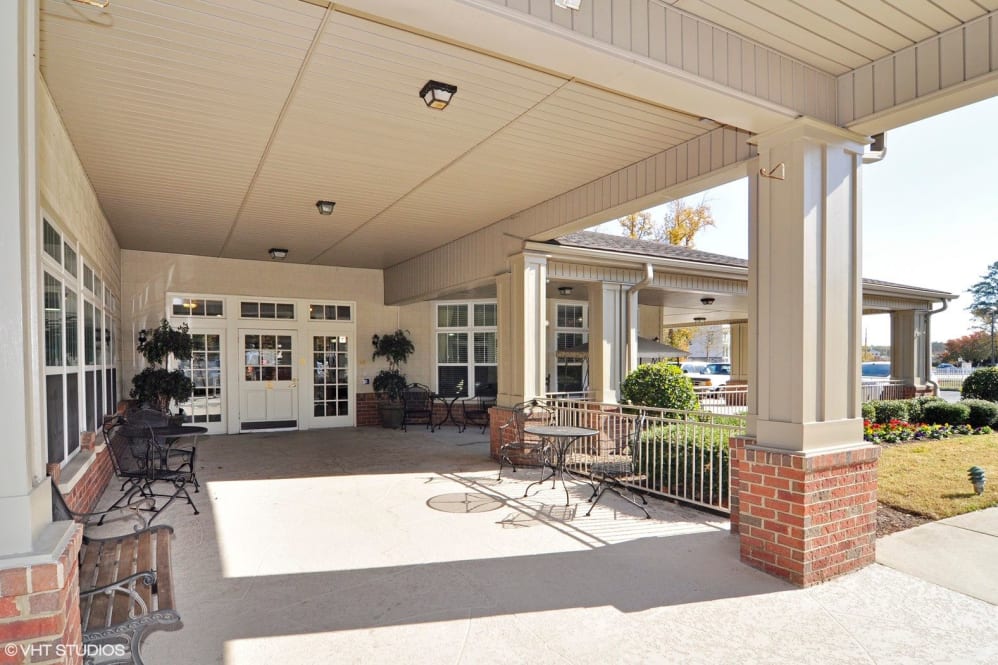 Chesapeake Place, Chesapeake
Residents at Chesapeake Place enjoy a wide array of activities such as cooking classes, exercises, shopping trips, and dining excursions. While they can always retreat into their own private apartments, there's always an opportunity to socialize with neighbors over coffee in the lounge or while eating in the dining room. A casual bistro offers a variety of light meals and snacks, and a beauty salon keeps residents looking their best. Cats and small dogs are welcome, and there's even a dog park nearby.
Cost begins around $4,500 per month.
The Williams Home, Lynchburg
The Williams Home has been exclusively serving women since the 1950's. Inside, it has comfy sitting areas, sunrooms on each floor, a library, and an activity room. Outside, there are beautifully landscaped grounds with walking paths and a memory garden. Residents enjoy regular shopping and lunch trips into the Lynchburg area, and can arrange transportation for offsite medical appointments if needed. With only 35 residents and an all-female staff, this facility is the only one of its kind in Virginia.
Cost begins at $3,755 per month.
Our Lady of Perpetual Help, Virginia Beach
Our Lady of Perpetual Help is operated by the Catholic Diocese of Richmond, whose focus is on meeting the physical needs of seniors while allowing them to remain as independent as possible. Residents participate in strategically developed activities such as scheduled outings, social events, and fitness classes to enjoy overall mental and physical well being, and a pastor conducts weekly non-denominational worship service for spiritual health. Accommodations are available from studios to two-bedroom apartments, and a 24-hour staff is available to help at all times with personal care.
Cost begins at $3,915 per month.
The Waterford at Virginia Beach
Residents at The Waterford not only enjoy living in a beautiful area, but they also have access to a variety of wonderful amenities. A community bus takes them on tours to see a variety of local museums and architecture, and can also take them to medical appointments nearby. Onsite, a coffee bistro, billiards room, and multiple patios provide ideal environments for socializing, and daily exercise classes keep residents active. Personalized assistance plans include medication management, incontinence care, bathing/dressing assistance, and optional rehabilitation therapy sessions.
Cost begins at $4,725 per month.
Hermitage Roanoke Retirement Community, Roanoke
Hermitage Roanoke is the only not-for-profit retirement community in Roanoke that does not require an entrance fee. It offers a continuum of care so that as needs progress for residents, they can easily transition into a licensed nursing center onsite. Assisted living rooms are located in the center of the community where residents can easily access the dining room and nursing attendants as needed. Hermitage participates in the Samaritan Program, which provides financial assistance to residents who have outlived financial resources.
Cost begins at $3,965 per month.
Vitality Living West End, Richmond
Vitality is situated on a beautiful campus featuring a large courtyard and resident gardening areas. There's also a putting green, walking paths perfect for walking pets, a fitness center, woodworking shop, and piano and game room. When residents get hungry, they can eat in the community dining room with neighbors or a private dining room with family. And if they feel like venturing off campus for the day, they can join a chauffeured excursion to Virginia Museum of Fine Arts, Lewis Ginter Botanical Gardens and the American Civil War Museum.
Cost begins at $2,495 per month.
Dominion Village, Williamsburg
Dominion Village is a pet-friendly community close to various shopping, dining and recreational attractions. Seniors are treated with dignity as they exercise as much independence as possible, and can take advantage of amenities such as pet therapy, movie nights, and restaurant-style dining. Trained caregivers and nurses assist with medication management and activities of daily living, and weekly housekeeping and laundry services are included.
Cost begins at $2,500 per month.