Utah's average monthly cost to live in an assisted living facility is just $3,400, which is almost $1,000 less than the national average. Seniors who need immediate placement into an assisted living community but do not have the funds may benefit from an Eldercare Bridge Loan. This provides financial assistance for 12-18 months while residents and their family members gather other means to pay for living expenses.
10 Best Assisted Living Facilities in Utah
Legacy House of Bountiful, Bountiful
Legacy House is a pet-friendly community for seniors seeking a homelike setting. Apartment floor plans range from studios to one and two bedrooms, and each has a kitchenette, private bath, individually controlled heating and cooling, and 24-hour emergency call system. Housekeeping and laundry services are provided along with personal care assistance as needed. Residents love to walk on the landscaped grounds complete with fountains and trails, and have access to a fitness room and salon onsite. Transportation can be arranged for local medical appointments and shopping trips.
Cost begins at $3,050 per month.
Apple Tree Assisted Living, Kaysville
Apple Tree is situated in a beautiful walkable neighborhood. Inside, nature can be seen all over, from flowers growing in raised beds, to frogs and turtles swimming in a pond, to songbirds perched in an aviary. Outside, residents can stroll on landscaped grounds or venture to a nearby coffee shop, restaurant, shop or parks. A full-time nurse is on staff for any medical needs that arise, and companion suites available for those wanting to live with spouses or friends.
Cost begins at $4,030 per month.
Beehive Homes, Syracuse
Beehive Homes of Syracuse is dedicated to the health and safety of each resident, offering 24-hour care in a secure and friendly environment. A registered dietitian ensures that meals meet nutritional needs while registered nurses oversee medication administration. Caregivers are always around to help with bathing, dressing, and grooming, and a dedicated activity staff keeps residents entertained.
Cost begins at $3,775 per month.
Covington, Orem
Covington has received over 100 excellent Google reviews by satisfied residents and their families. It's located near parks, restaurants and churches, allowing residents to remain feeling like they're part of the greater Orem community. Residents also enjoy staying on the Covington campus since they have access to group exercise classes, social activities, and games as wll as 24-hour care as needed. Handrails line the wide hallways to allow for safe maneuvering, and each apartment has safety features like grab bars in the bathroom. Family and friends are welcome to visit loved ones and take advantage of a private dining room.
Cost begins around $3,000 per month.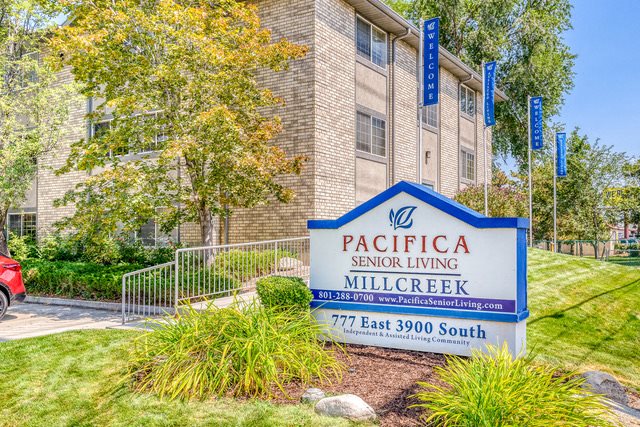 Pacifica Senior Living Millcreek, Salt Lake City
Pacifica residents are encouraged to live as independent as possible with the comfort of knowing that help is always available. The pet-friendly, homelike community has a cozy family room with a fireplace for cold nights, a beverage station for a cold drink on hot days, and lots of community seating for socializing with neighbors. Amenities also include a library, salon, and gardens where residents can grow their own herbs and flowers. Residents enjoy group outings into the local neighborhood, and family is always welcome for visits.
Cost begins at $4,1120 per month.
Sarah Daft Home, Salt Lake City
The Sarah Daft Home is a nonprofit community near George E. Wahlen VA Medical Center, Salt Lake Regional Medical Center and the University of Utah Hospital. Housed in a historic building and surrounded by landscaped gardens, the home offers 39 residents a place to enjoy aging while feeling safe and comfortable. Three nutritious meals are served each day, and weekly housekeeping and laundry services are included. Residents are treated to chauffeured trips to local senior centers, shops, restaurants and local events in Salt Lake City.
Cost begins at $2,100 per month.
Reid's Park Place, Springville
Reid's Park Place is a Level I facility for seniors who don't require skilled nursing. Residents live in spacious private accommodations with bathrooms that have emergency alert cords, and receive assistance with bathing and grooming as needed. Rent includes daily housekeeping, laundry, and basic toiletries like soap, shampoo, and deodorant. An activities staff plans fun events to allow residents to socialize, including limousine tours of Utah Valley. Guests are invited to join their loved ones for meals, and staff members can counsel residents and their families regarding financial matters. The facility accepts Medicaid from qualified individuals.
Cost begins at $2,375 per month.
Spring Gardens, St. George
Residents of Spring Gardens have lots of local places to visit with family members. Grandkids love the Dinosaur Discovery Site while adults enjoy the Washington City Museum and 11th Street Gallery. Back on campus, seniors enjoy lots of social interaction during fun games and events like hot air balloon rides and barbecues. Assistance is available around the clock for help with bathing, dressing, and medication management, and a memory care facility is onsite if needs change.
Cost begins at $4,100 per month.
Truewood by Merrill, Taylorsville
Truewood in Taylorsville offers private apartments and many amenities all on a single level. Inside the pet-friendly facility are a fitness center, library, activity center and salon, while outside there is a large parklike backyard with a duck pond. Residents enjoy cooking classes, art projects and live entertainment and are always supervised by an attentive nursing staff. Floor plans include a Bungalow Suite, Terrace Suite and Garden Suite.
Cost begins around $3,000 per month.
Lotus Park, West Haven
Every day, Lotus Park residents are able to take in stunning scenic mountain views. Frequent outings to local attractions allow residents to feel like a part of the greater West Haven community, and onsite activities facilitate an active social life. Delicious meals are approved by a dietitian and can be customized upon request. Level I and Level II assisted living options are available since some seniors simply need verbal reminders for grooming and medications while others need more hands-on help. The facility is pet-friendly.
Cost begins at $4,000 per month.