The cost for assisted living in Ohio is close to the national average of $4,300. To help low-income seniors afford the cost, Ohio's Medicaid program offers the Assisted Living Waiver which offers financial assistance for services that take place in an assisted living facility, but not for the cost of room and board; and the MyCare Ohio Plan (MCOP), which is available in 29 counties and is for dually eligible Medicaid and Medicare individuals.
Ohio's Department of Mental Health also offers a Residential State Supplement (RSS) program to Medicaid recipients. It provides financial help with the cost of adult group homes, adult foster care, and assisted living, and services include personal care assistance, medication monitoring, and recreational activities.
10 Best Assisted Living Facilities in Ohio
Brookdale Bath, Akron
At Brookdale Bath, seniors receive help with activities of daily living while enjoying chef-prepared meals and a variety of recreational amenities. Residents live in private, pet-friendly apartments where they can be as independent as possible, with a licensed nurse and 24-hour care staff available as needed. Social activities like crafts, games, and group outings are a daily occurrence, and residents are welcome to entertain guests in a private dining room. An onsite fitness center is the perfect place to stay active, and a special private area available for residents to entertain guests. Brookdale communities are rated Number 1 in Customer Satisfaction by J.D. Power and Associates.
Cost begins at $6,300 per month.
Light of Hearts Villa, Bedford
Light of Hearts Villa is a faith-based community that strives to encourage seniors on their journey of aging. Seniors socialize in various gathering areas and a community dining room, and enjoy amenities such as an onsite hair salon, computer room, gift shop, and chapel. Each apartment has its own bathroom, kitchenette, and emergency call system, and a caring staff is available for help as it's needed.
Cost begins around $5,000 per month.
The McGregor, Cleveland
Overlooking Lake Erie and downtown Cleveland, The McGregor encourages seniors to enjoy an independent life while providing assistance with daily tasks as needed. Residents enjoy a variety of outdoor amenities like trail paths, landscaped courtyards and gardens, and also participate in a full calendar of social activities. An onsite fitness center keeps seniors fit, and a compassionate nursing staff is available around the clock. Should needs change over time, skilled nursing and hospice services are on campus.
Cost begins around $2,300 per month.
Westerwood, Columbus
Westerwood has a 23-acre pet-friendly campus where active seniors can enjoy the outdoors. A caring staff can help residents as they walk through a beautiful nature refuge, head to pottery classes, or get ready for bed in their own apartments. Each resident has access to their own garden plot if that is something they enjoy. Meals are prepared from scratch by a chef, and the community has its own soda shop for between-meal treats. A dedicated Life Enrichment team organizes more than 120 concerts, performances, and lectures each year just for residents to enjoy.
Cost begins at $2,000 per month.
Bloom at Lakewood, Lakewood
For over 50 years, Bloom at Lakewood has been providing seniors with a safe place to enjoy life as they age. Residents are encouraged to participate in a wide array of enrichment programs and enjoy amenities such as a computer center, media room, salon. A dedicated staff works with family members to develop individualized care plans that include help with grooming tasks, medication management, and nutritional meals. The facility offers month-to-month rentals with no buy-in fees or long-term leases.
Cost begins at $3,900 per month.
Spring Hills Singing Woods, Dayton
Spring Hills Singing Woods is close to Oregon Historic District, where residents can enjoy unique shopping and dining options. On the community's campus, a variety of activities are offered daily, including Wii Sports, book clubs, yoga, and gardening. Private apartments are pet-friendly and include kitchenettes and private baths, and 24-hour nursing care is available for those who need it.
Cost begins at $3,500 per month.
Danbury, Tipp City
Residents of Danbury in Huber Heights enjoy a full schedule of social activities and a wide array of amenities. Scheduled outings and exercise classes help keep seniors active, while an onsite bistro, pub, salon, and movie theater offer fun and convenience. Apartments are pet-friendly and have accessible showers, kitchenettes, and individual heating and air conditioning controls. Weekly housekeeping and laundry services are provided, and 24-hour care is available.
Cost begins around $4,000 per month.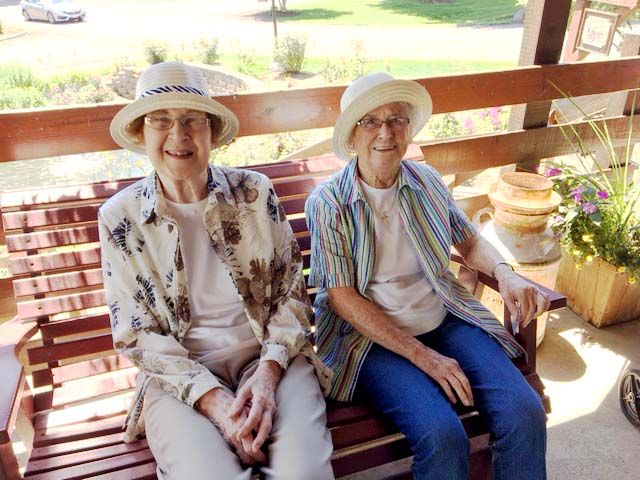 St. Luke Lutheran Community – North Canton
St. Luke offers a variety of activities and outings that create meaningful experiences and promote socialization among residents. Whether they are enjoying a game of bingo, working on a craft, baking, or taking an exercise class, seniors can do so with confidence that assistance is available whenever needed. Meals are prepared to meet individual diet preferences, and laundry and housekeeping services are included. With only 52 assisted living apartments, trained staff is able to provide personalized 24/7 for help with medication management and activities of daily living.
Cost begins at $3,000 per month.
Springfield Assisted Living, Springfield
Springfield Assisted Living provides a nurturing home where seniors can age with dignity. Residents enjoy an enriching social life filled with Bible study groups, Bingo games, and ice cream socials, and can always retreat to their own spacious apartments for privacy. Regular housekeeping and laundry services are included, and three nutritious meals are served daily. Every resident has a personal emergency response system, and 24-hour nursing services are available. This community accepts Medicaid.
Cost begins at $2,750 per month.
Swan Creek Retirement Village, Toledo
Swan Creek's compassionate staff takes care of cooking, cleaning, and laundry while residents enjoy a variety of recreational activities. Walking paths offer the perfect place for residents to exercise their pets, and an onsite putting green, billiards room, and woodworking shop allow them to practice their hobbies. Each apartment has an emergency response system, and help is always available with bathing, dressing or managing medications.
Cost begins around $5,000 per month.