Just as the overall cost of living in New York is higher than it is in most states, the cost for an assisted living facility is substantially higher than the national average. According to Genworth's Cost of Care Survey 2020, seniors in New York can expect to pay around $5,991 per month. To help pay for the cost, some facilities accept Medicare payments, and some accept Medicaid.
New York also offers two Medicaid waiver programs that help pay for assisted living. The Managed Long Term Care Program (MLTC) provides financial assistance for personal care services and housekeeping. The Assisted Living Program (ALP) helps seniors who qualify for nursing home care but prefer to live in an assisted living facility. It pays for room and board as well as a variety of services such as personal care, housekeeping, nursing, physical therapy, and speech therapy. The ALP program is open to some non-Medicaid recipients.
10 Best Assisted Living Facilities in New York
Dominican Village, Amityville
Dominican Village is a nonprofit, nonsectarian residence sponsored by the Sisters of St. Dominic of Amityville. Sixty-six assisted living residents are encouraged to maintain their independence while receiving assistance with daily living tasks, medication management, housekeeping, and transportation. Seniors participate in a variety of activities that promote physical, mental, and spiritual health, such as fitness classes, day trips, religious celebrations and volunteer opportunities. Each private studio apartment includes a kitchenette, a handicapped-accessible bathroom, and emergency pull cords in the bathroom and bedroom.
Cost begins around $4,300 per month.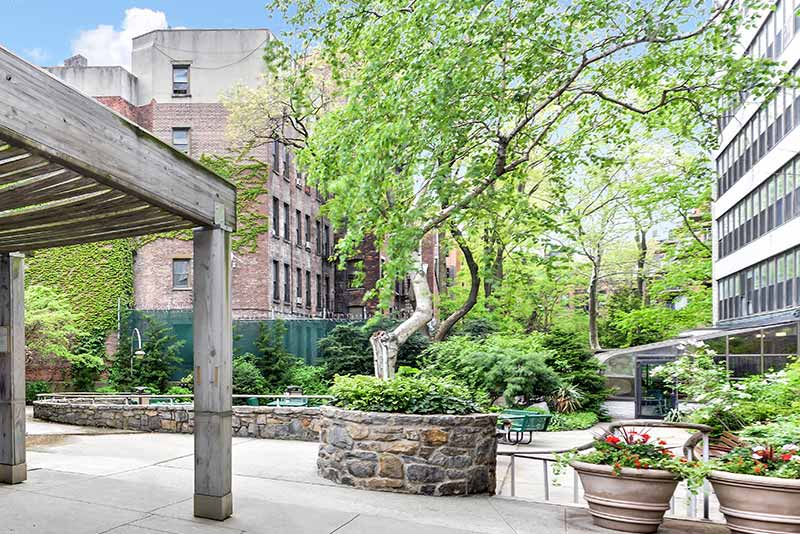 University Avenue (The New Jewish Home), Bronx
University Avenue Assisted Living, owned and operated by the New Jewish Home, offers customized care to low-income seniors. Residents live in their own private studios and can participate in fitness classes to improve balance and strength, as well as other classes to socialize and express creativity. Onsite healthcare providers ensure that residents are healthy, and also coordinate care with third party providers. To be considered as a resident of University Avenue, applicants must be 65 or older (with some exceptions for younger seniors), a medicaid recipient, a social security income recipient, and in need of supportive services.
Cost begins at $4,136 per month.
Harbor View Home, Brooklyn
Harbor View Home overlooks Sheepshead Bay and offers a wide array of activities to keep seniors engaged. From live entertainment to computer courses to socializing on the sundeck, residents truly enjoy life while knowing that help is nearby if needed. Doctors, nurses, physical therapists and occupational therapists work together to ensure each senior is receiving the care they need, and a synagogue and chapel are on site for spiritual health.
Cost begins at $3,000 per month.
The Bristol Home, Buffalo
The Bristol Home has been providing quality assisted living and memory care to women since 1868. Residents enjoy planned social activities onsite, home-cooked meals whenever they are hungry, and fun outings into the city. Assistance with activities of daily living, medication management, and transportation is always available, and a social worker can help with financial needs.
Cost begins around $4,000 per month.
Queens Adult Care Center, Elmhurst
Queens Adult Care Center provides 24-hour care in a secure community where seniors can thrive. In newly renovated, fully furnished apartments, residents have individual air conditioning units, an emergency call system, and a bathroom equipped with safety features. Housekeeping, laundry service, and transportation are provided, and three nutritional meals are served each day. Doctor's offices and skilled nursing services are available onsite for residents who need medical care.
Cost begins at $6,000 per month.
The Nottingham, Jamesville
The Nottingham offers various levels of assisted living depending on residents' needs. While some seniors simply require medication reminders, some need assistance with bathing, and some need oxygen therapy and glucose monitoring. A caring staff at The Nottingham can help with whatever residents require. Amenities include a library, beauty salon, and pool, along with a full schedule of social activities like games, crafts, and cocktail hours. Pets are welcome.
Cost begins at $4,000 per month.
Atria West 86, New York
Atria West 86 is a luxury pet-friendly community located a block away from Riverside Park. Residents can head to the rooftop to take in the city skyline, or schedule transportation to local shopping venues. Three on-site dining venues offer a variety of choices, from the casual bistro, to the full-service restaurant, to the coffee and wine bar. Supportive services are available when needed and include assistance with activities of daily living, medication assistance, and scheduling and follow-up for physician appointments.
Cost begins at $7,500 per month.
Carnegie East House, New York
Carnegie East House is in the Upper East Side close to Mount Sinai Hospital and many other New York City amenities. Residents receive 24-hour care as needed while enjoying a variety of enriching activities such as fitness classes, workshops, lectures and concerts. Three healthy meals are served in the dining room, and housekeeping and laundry services are included. A nursing staff and social worker are always available for medical or emotional needs.
Cost begins at $6,400
The Landing of Brighton, Rochester
The Landing of Brighton is a large, modern community three miles south of downtown Rochester. Assisted living apartments are larger than most at up to 670 square feet, and have full size appliances. For safety, each apartment has an emergency call system, and staff conducts daily check-ins on every resident. Amenities include a heated pool for aerobic exercise, a movie theater, an art studio, a game room with billiards, and complimentary transportation to offsite shopping.
Cost begins around $5,800 per month.
The Pines at Heartwood, Troy
In addition to a variety of recreational activities, The Pines at Heartwood offers case management services, financial planning, and medication management. Residents enjoy spending time on the screened in patio and solarium, and can choose to either dine in the restaurant or order room service. Discrete help is available with activities of daily living, and each apartment has an emergency call system.
Cost begins at $5,500 per month.