Genworth's Cost of Care Survey 2019 estimates that the average cost of assisted living in New Hampshire is $7,000 per month, which is extremely high compared to the nationwide average of $4,051. Low-income seniors may qualify for the Choices for Independence Waiver, which provides services for those needing nursing-home level care. Support services covered by the waiver include personal emergency response services, personal care services, and more. We've included mid-priced facilities on our list to accommodate various income levels. 
10 Best Assisted Living Facilities in New Hampshire
Pond View Acres, Barrington
Pond View Acres is an intimate home with just 10 residents. Whether seniors spend their day playing bingo, gardening, or enjoying a pet therapy session, they always have something to look forward to. For an exciting change of scenery, staff members escort residents into the community to enjoy bowling, movies, and shopping. Registered nurses are onsite around the clock, and helpful staff members provide supervision with medications and assistance with activities of daily living.
Cost begins at $4,000 per month.
Bedford Falls, Bedford
Bedford Falls is named after the fictional city in It's a Wonderful Life, and they truly believe in the philosophy of that name. No matter how much care they need, every resident at Bedford Falls enjoys all the things that make life good, from great food, to a fun social life, to a comfortable apartment where they are right at home. Staff members strive to keep seniors active with fitness classes and yoga, and a full calendar of activities encourages residents to spend time together. In the center of the dining room, a professional chef prepares menu items as residents watch.
Cost begins at $5,000 per month.
Courville Bedford-Carlyle, Bedford
Courville Bedford–Carlyle is an all-inclusive 46-bed community with a holistic approach to senior care. All rooms on a single level allows residents to move around independently, and social activities and exercise programs encourage interaction. Nurses are available 24/7 and doctors visit regularly. Speech, physical and occupational therapy are also available onsite.
Cost begins around $7,000 per month.
Bellamy Fields, Dover
Bellamy Fields offers a wide array of amenities to keep seniors active and engaged. From ball toss to bingo, to excursions around town, residents enjoy interacting with new friends while receiving assistance when needed. Medicaid-covered services available include physical therapy, family therapy, geriatric psychiatry, podiatry, pacemaker checks and X-ray.
Cost begins at $4,000 per month.
Wadleigh House, Dover
Wadleigh House is a quaint senior community located in an 1827 colonial home. Private rooms offer a bed and breakfast feel, and the homey dining area serves as a great place to get to know new friends. Laundry and housekeeping services are taken care of so residents can enjoy activities such as live entertainment or visit the on-site salon. An onsite nurse ensures each resident receives excellent medical care, while licensed caregivers help with activities of daily living.
Cost begins at $4,200 per month.
Kirkwood Corners, Durham
Kirkwood Corners is a pet-friendly community offering assistance with daily activities and coordination of medical care. Without having to cook, clean, or drive, residents are able to enjoy the finer things in life like three delicious chef-prepared meals per day, visits from therapy dogs, or a hand massage right onsite. Visiting family members can spend quality time with their loved ones outdoors at Little River Park or North River Lake, or enjoy browsing at Durham Shopping Center.
Cost begins around $4,000 per month.
Inn at Parker Station, Goffstown
What was once a historic farmhouse is now Inn at Parker Station, a cozy senior community with nine assisted living rooms. Caregivers are available 24/7 to provide help with daily grooming and medication, and meals are served family-style in the home's dining room. Residents enjoy social activities and transportation to scheduled appointments and activities.
Rates are $80 per day.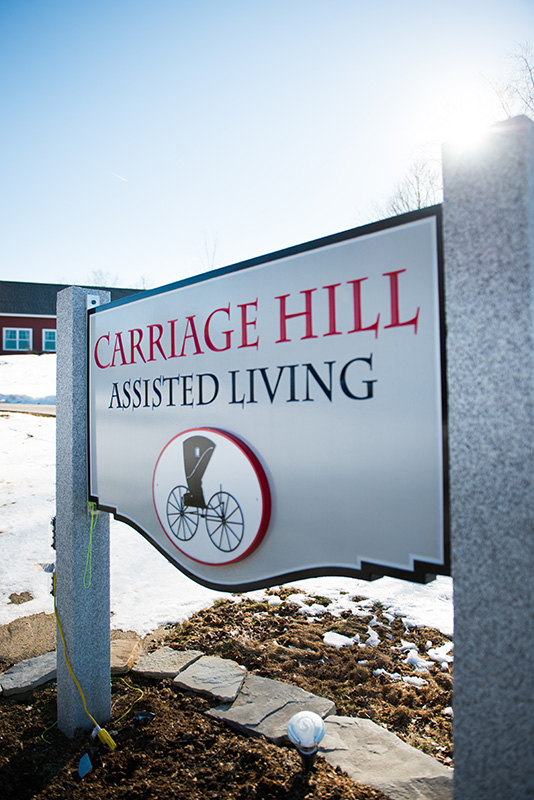 Carriage Hill, Madbury
Residents at Carriage Hill have their own private bedrooms and bathrooms with walk-in showers. Housekeeping and laundry services are included, and staff members help with mobility and personal grooming. A library and game room are onsite, and residents enjoy activities such as gardening, baking, and pottery. Third party service providers such as physical therapists and podiatrists are available as needed.
Cost begins at $5,700 per month.
The Courville, Manchester
The Courville is an all-inclusive 82-bed community offering assisted living, short-term rehabilitation, and long-term care. Residents benefit from The Courville's commitment to HumanKindness, with daily activities that provide emotional, social and spiritual happiness and allow seniors to maintain a sense of independence. A nursing team, doctors, and family members work together to coordinate overall health so residents are as comfortable as they can be. The facility is Medicare and Medicaid certified, and accepts most private insurances.
Cost begins around $5,700 per month.
Ledgewood Bay, Milford
Located in a quiet residential neighborhood, Ledgewood Bay offers easy access to shopping and medical facilities. A wide offering of programs such as educational seminars helps seniors stay mentally sharp, while exercise classes and happy hours keeps them physically fit and social. Staff are available to provide assistance with daily tasks, including medication reminders, help with dressing and accompanying seniors on outings.
Cost begins around $5,500 per month.