With a national average cost of $4,051 per month to live in an assisted living facility, seniors in Nevada will be glad to find that it will cost them considerably less than that. The most affordable areas to live in are Las Vegas, with an average cost of $3,300, and Reno, with an average cost of $3,250.
Seniors who qualify for Medicaid may receive financial help from the state to help pay for an assisted living facility. The Home and Community Based Waiver for the Frail Elderly (HCBW-FE Waiver). It provides supportive, non-medical services such as personal care assistance in a state-approved assisted living community.
Another waiver offered by the state is the Home and Community Based Waiver (HCBW) for Persons with Physical Disabilities. It allows disabled residents who require nursing home-level care to remain living in the community, including in the home of a relative or in an assisted living facility.
10 Best Assisted Living Facilities in Nevada
The Homestead, Boulder City
The Homestead is a single-level community where residents enjoy restaurant-style dining, a beautiful courtyard, cozy fireside living areas, and a close proximity to an award-winning municipal golf course. A full schedule of activities includes educational and spiritual programs, social activities, a therapy dog, live music and more. Residents receive personalized care from a 24-hour staff including daily check-ins, and always have peace of mind with an emergency alert pendant.
Cost begins at $3,288 per month.
Merrill Gardens at Green Valley Ranch, Henderson
Merrill Gardens features a wide array of amenities onsite, including a fitness center, movie theater, wine bar, pool, putting green, and casino-style games. Anytime Dining allows residents to eat freshly prepared meals whenever they are hungry, and the surrounding neighborhood also has many restaurants and shops to explore. Residents receive assistance with activities of daily living as needed, and St. Rose Dominican Hospital and Sunrise Hospital are close by for medical services.
Cost begins at $3,040 per month.
Pacifica Senior Living Green Valley, Henderson
Pacifica Senior Living has a unique design. Located on four acres, there are several 12-person cottages that each have private suites, communal kitchens, living rooms, activity spaces, and a dedicated caregiver. The campus also has a library, wellness center, putting green and community hall for social recreational activities. Residents can receive help with grooming, transferring, and transportation, and enjoy three family-style meals each day. Pets are welcome for an additional fee.
Cost begins around $3,000 per month.
Brookdale Las Vegas, Paradise
Brookdale is a homey single-level community with easy access to the Strip. A spacious patio area and ample walking paths make the courtyard a favorite place to socialize, while a cozy living room and library corner are perfect for relaxing. There's always an activity going on, from B-Fit exercises, to games, baking, gardening and happy hours. Meals are prepared to meet dietary restrictions, and staff members are always on hand for help with activities of daily living.
Cost begins at $3,300 per month.
Quail House, Paradise
Quail House offers seniors a residential living experience, with homelike common areas and 10 suites with accessible bathrooms. Outdoors, they'll find beautifully landscaped grounds with plenty of options for outdoor fun, including a pool, a putting green, and a bocce ball court. Residents enjoy a busy schedule of activities including games, live performances, yoga, and pet therapy, and meals are personalized to meet dietary needs. A team of certified caregivers is always available to help with bathing, grooming, medication management and more.
Cost begins at $5,500 per month.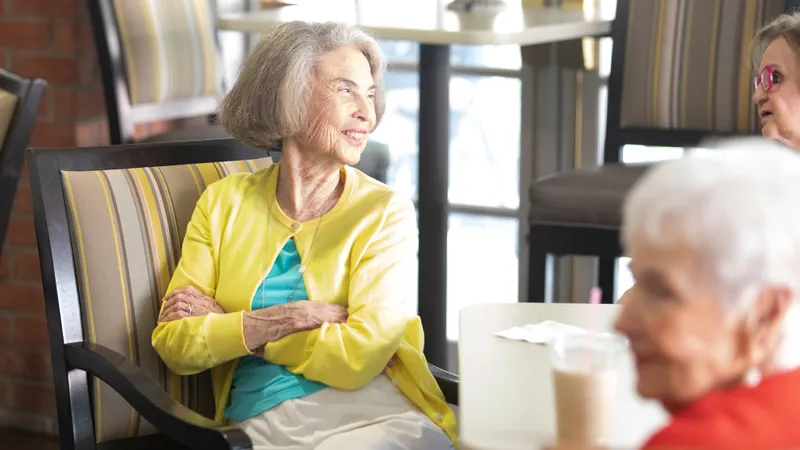 Acacia Springs, Las Vegas
Acacia Springs has plenty of amenities to keep seniors entertained, including an enclosed outdoor pool and jacuzzi, a putting green, fitness center, billiards room, and theater. An activities director offers a calendar full of arts and crafts, baking, cocktail hours and scenic drives, and there's always a caring staff member nearby to help. Residents who require rehabilitative care have access to Acacia Springs professional therapy providers. This facility offers Anytime Dining, allowing guests to eat when it fits into their schedule.
Cost begins around $3,400 per month.
Oakey Assisted Living, Las Vegas
Oakey Assisted Living is in close proximity to downtown Las Vegas, and promotes holistic wellness for seniors through physical, intellectual, emotional, spiritual and social involvement. Multiple paved gardens offer natural shade for enjoying fresh air, and a 24-hour fitness center offers tai chi, chair yoga and a Sit n' Fit class. Social time is often spent playing pool or poker, or lounging in the TV room. A general store is onsite for convenience, and meals are prepared using fresh food from the onsite garden.
Cost begins at $3,575 per month.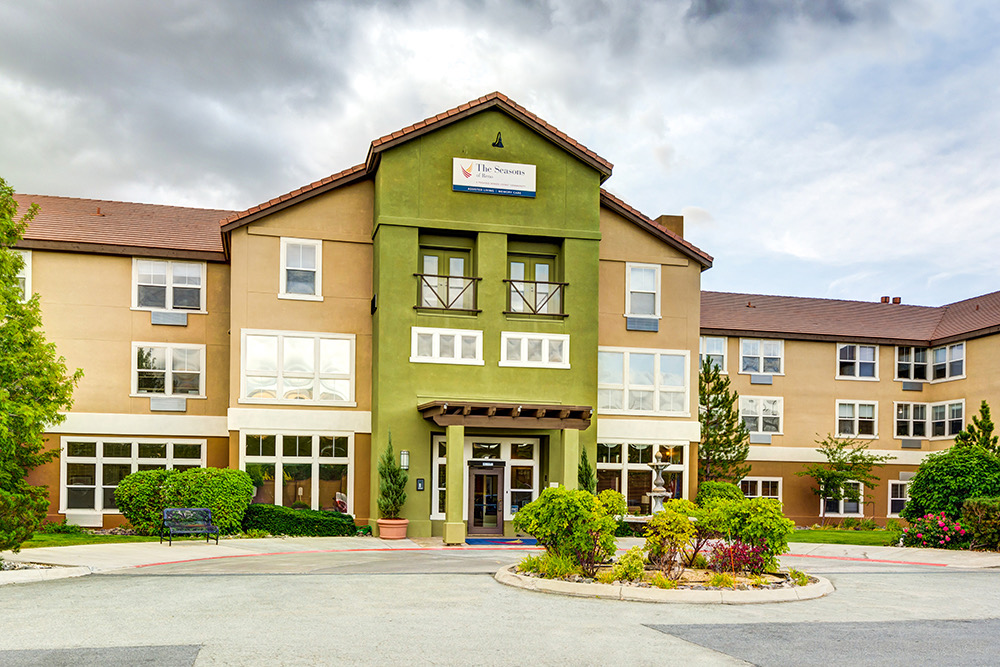 The Seasons of Reno
At The Seasons of Reno, happiness is contagious. Residents enjoy a positive, fun atmosphere with daily activities including morning stretches, drawing lessons, word games, and excursions to local shopping venues. Staff members perform regular check-ins throughout the day, and help is available for medication management. Residents are welcome to keep small pets.
Cost begins at $3,891 per month.
Stone Valley, Reno
At Stone Valley, residents enjoy a vibrant life enrichment program featuring virtual reality therapy that allows them to participate in new experiences from home. Secure walking paths allow for safely exploring outdoors, and social interaction is encouraged during movie nights and ice cream socials. All seniors living at Stone Valley receive an individualized care plan with 24-hour assistance available, along with a location-based pendant for peace of mind.
Cost begins around $3,500 per month.
Cascades of the Sierra, Spanish Springs
At Cascades of the Sierra, residents are never bored. They can spend the afternoon getting pampered at the spa, watching a movie in the theater, enjoying ice cream during an ice cream social, expanding their minds during brain games, or taking a dip in the indoor pool. For a change of scenery, outings are scheduled to local shopping venues and scenic areas. Every apartment has an emergency call system, and pets are allowed for an extra fee.
Cost begins around $3,600 per month.