Michigan offers retirees a moderate cost of living as well as beautiful lakes and woodlands. One program that may help pay for assisted living care in Michigan is Health Link, which is a managed care program for dually eligible Medicaid and Medicare recipients. Assistance can be provided in one's home, adult foster care, or an assisted living facility, which is more commonly called Homes for the Aged in Michigan. Unfortunately, Health Link is not available in all cities.
10 Best Assisted Living Facilities in Michigan
Brookdale, Bay City
Just a few blocks from Lake Huron, Brookdale Bay City is a pet-friendly assisted living community offering studio and one-bedroom apartments. A caring staff handles the mundane chores of laundry, housekeeping, and cooking so residents can enjoy a full calendar of activities including bingo, arts and crafts, and exercise classes. Help is available 24 hours a day with hygiene, grooming and medication management, and nurses are always accessible if needed.
Cost begins around $3,500 per month.
Ashley Court, Brighton
At Ashley Court, residents have a hard time deciding if they're at home or on a weekend retreat. A welcoming front porch offers cozy rocking chairs to sit and watch the community's activities, while spacious courtyards and gazebos provide plenty of room to visit with friends. Inside, all rooms are barrier free allowing wheelchairs to easily flow freely. Activities like crafts, games, and a cooking club enrich residents' physical and cognitive needs, while cozy private apartments allow them to relax and enjoy privacy. A full-time nurse is on staff to help with medical care, and hospitals are just around the corner.
Cost begins around $3,000 per month.
St. Joseph Manor, Detroit
Situated on three fenced acres, St. Joseph Manor offers residents a home where they can feel safe while enjoying an active social life. A peaceful private chapel welcomes seniors of all denominations, and a full calendar of recreational activities keeps residents mentally and physically fit. Four levels of assisted living care means residents can get the care that they need as they age — without having to move. A 24/7 staff is available to help with medication management and personal hygiene, and emergency call systems are provided in each room. The affordable monthly rent also covers housekeeping services and three meals per day.
Cost begins at $4,860 per month.
Henry Ford Village, Dearborn
Henry Ford Village is a luxurious facility with an abundance of amenities for seniors. Located on 35 acres, the large campus has over 800 living units along with an aquatic center, gym, market, bank, library, billiards room, ceramic studio, putting green and bocce ball courts. While assisted living residents receive three meals per day, there are also three restaurants on campus, and transportation is provided to other restaurants downtown. An extensive offering of activities includes live music, language classes, and reading clubs, and a full range of healthcare is available at the onsite medical center.
Cost begins around $5,000 per month.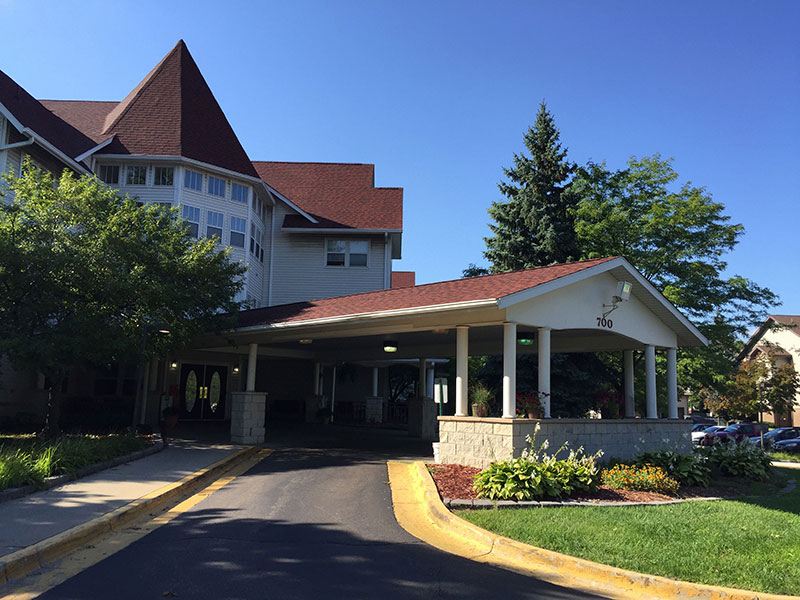 McFarlan Home, Flint
McFarlan Home offers senior women comfortable private suites with 24-hour care. The intimate community caters to just 29 residents, and has inviting common areas where the ladies can enjoy each other's company while playing cards or working on a craft. Laundry and housekeeping are all taken care of, and healthy meals are prepared three times a day. Residents can have help with bathing whenever needed, and a beauty salon and manicurist are right onsite.
Cost begins at $3,800 per month.
Barton Woods, Freeland
With only 20 assisted living residents, Barton Woods offers individualized attention and round-the-clock assistance. Situated among a serene wooded area, seniors who live here enjoy long walks, gardening, and dining outside when it's nice, and hanging out in the game room during colder months. Nursing care and medication administration is always available, and laundry and housekeeping services are included.
Cost begins around $3,000 per month.
Edison Christian Assisted Living Center, Grand Rapids
Edison Christian Assisted Living Center is part of Edison Christian Life Services, a non-profit that provides faith-based care to Grand Rapids seniors. Residents live comfortably in barrier-free apartments with 24-hour staff available, and have an emergency call system for ultimate security. To promote total wellness and mobility, physical, occupational and speech therapy is available, along with pharmacy services and an onsite physician. A full calendar of social, recreational and faith-based activities are held in common areas.
Cost begins around $3,900 per month
Sojourner Place, Kalamazoo
Sojourner Place offers a fun, relaxing atmosphere where seniors are well taken care of. Residents enjoy a social calendar of live entertainment, bingo and exercise classes, as well as transportation to local festivals and farmers markets. A registered nurse is around 24/7 to coordinate personalized care, and supportive services like bathing, meal preparation, and housekeeping are included in monthly rent.
Cost begins at $4,000 per month.
Grandhaven Living Center, Lansing
It's not often that Grandhaven Living Center residents get bored. Whether they're singing karaoke, enjoying a cocktail at happy hour, or learning a new recipe in the cooking club, there's always something fun to do on campus. In summer, secured outdoor patios and courtyards provide a great place to socialize, and cozy common areas inside are great for chatting over coffee on winter days. A dynamic dining program includes seasonal menus and a variety of diet options that fit the unique needs of every resident. Whenever needed, help is available with medication, grooming, coordinating appointments, and transportation.
Cost begins around $4,000 per month.
Sunrise, West Bloomfield
Housed in a renovated mansion that feels like a bed and breakfast, Sunrise of West Bloomfield has everything seniors need to live a carefree life. Three meals are made fresh each day, and a Live With Purpose™ program enriches residents' minds, bodies, and spirits through tons of fun activities. Seniors choose to live on their own or with a companion, and never have to worry about laundry, cooking, and cleaning. Pets are welcome in all apartments.
Cost begins at $4,050 per month.