According to Genworth's Cost of Care Survey 2019, the average monthly cost of assisted living in Kentucky, as of 2020, was $3,497. While that cost is lower than many other states, some families will need help affording assisted living care for their loved one. An Elderlife Bridge Loan may be able to help cover out-of-pocket costs since it is designed to serve as a bridge until permanent financial resources become available. Up to six friends and family can help to pay off the loan.
10 Best Assisted Living Facilities in Kentucky
Arcadia Senior Living, Bowling Green
Residents of Arcadia acres enjoy amenities and services designed to support an active and worry-free lifestyle while promoting independence. From a stroll through outdoor walking paths to baking with grandkids, to laughing with neighbors during happy hour, there are opportunities everywhere to appreciate this carefree life. Trained team members are available 24 hours per day to assist with hygiene and medications, and an emergency call system is installed in each apartment.
Cost begins at $3,370 per month.
Liberty Ridge, Lexington
Liberty Ridge receives rave reviews for its Life Enrichment programs that encourage mental, physical and emotional well-being. Daily exercise classes using fitness balls, hand weights and stationary bicycles strengthen seniors' bodies, while fun arts and crafts classes unleash their creativity. And there's always a celebration going on at Liberty Ridge, whether it's singing Happy Birthday to a neighbor, cheering on a local sports team, or wishing visiting family members Happy Holidays. A team of Resident Assistants provide daily wellness checks and meal reminders as needed, and assistance with activities of daily living is available.
Cost begins around $2,500 per month.
Sayre Christian Village – Friendship Towers, Lexington
Voted as Herald Leader's #1 Retirement Community, Best Assisted Living and Best Physical Therapy Provider, Sayre Christian Village is a nonprofit senior living community dedicated to providing quality housing reflecting Christian compassion for everyone. Friendship Towers is the Village's assisted living facility, providing faith-based activities such as Bible studies and church services while also promoting strong social bonds. Loving care is provided by licensed nursing aides and registered nurses, as well as visiting physical and occupational therapists. A nutritionist is also on staff to ensure healthy meals that meet diet restrictions.
Cost begins around $3,080 per month.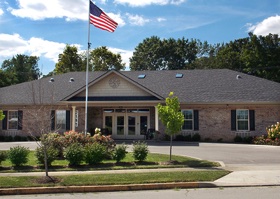 Pleasant Meadow, Lexington
With just 15 rooms, Pleasant Meadow is an intimate community that delivers a quieter experience than larger assisted living facilities. Residents love to spend time on the covered patio with a spectacular view of a working horse farm, and also enjoy planting flowers in the raised garden out back. A common area with a 16-foot ceiling is ideal for socializing while playing card games, working puzzles, or visiting with small pets. All-inclusive pricing includes a private studio, three nutritious meals per day, 24/7 support service, medication reminders, housekeeping and laundry, transportation, and an emergency pendant.
Cost begins around $3,800 per month.
The Forum at Brookside, Louisville
This J.D. Power-certified Five Star Senior Living community allows seniors to enjoy a social, active life while getting the support they need. The Forum is located on park-like grounds with mature trees and paved pathways, perfect for walking furry friends. Residents have access to a large courtyard and community clubhouse, which has an indoor pool. A full calendar of activities includes live band performances, cooking and baking, and scheduled outings into Louisville. As a personal care community, seniors receive assistance with activities of daily living and medical resources tailored to their care.
Cost begins at $5,100 per month.
Wesley Manor, Louisville
Wesley Manor operates with a mission-driven philosophy of care with an excellent rating from the Better Business Bureau. The pet-friendly community includes a private courtyard, piano lounge, library, whirlpool spa and ice cream parlor. Residents enjoy staying active with Wii bowling, chair exercises, and excursions to local shopping venues. They also have access to Protestant and Catholic worship services at the onsite chapel. A dedicated, personalized care staff is always available to help with medication management, dressing and grooming, and companionship.
Cost begins at $3,700 per month.
Atria Springdale, Louisville
Atria Springdale is conveniently located within minutes of Louisville's finest restaurants, shopping centers and entertainment venues, making it easy for residents to stay connected to the area they know and love. Multiple patio areas are great for socializing and relaxing outdoors, while interior common areas include a cozy fireside lounge, piano lobby, and restaurant-style dining room. Seniors look forward to a full schedule of onsite activities like bingo and themed dinners, while regular trips to local attractions such as Louisville Bats games gets them out to enjoy the local community. Residents who need assistance can get help with personal grooming, escorts to and from meals and events, scheduling doctor appointments, and even diabetes and oxygen management.
Cost begins around $2,700 per month.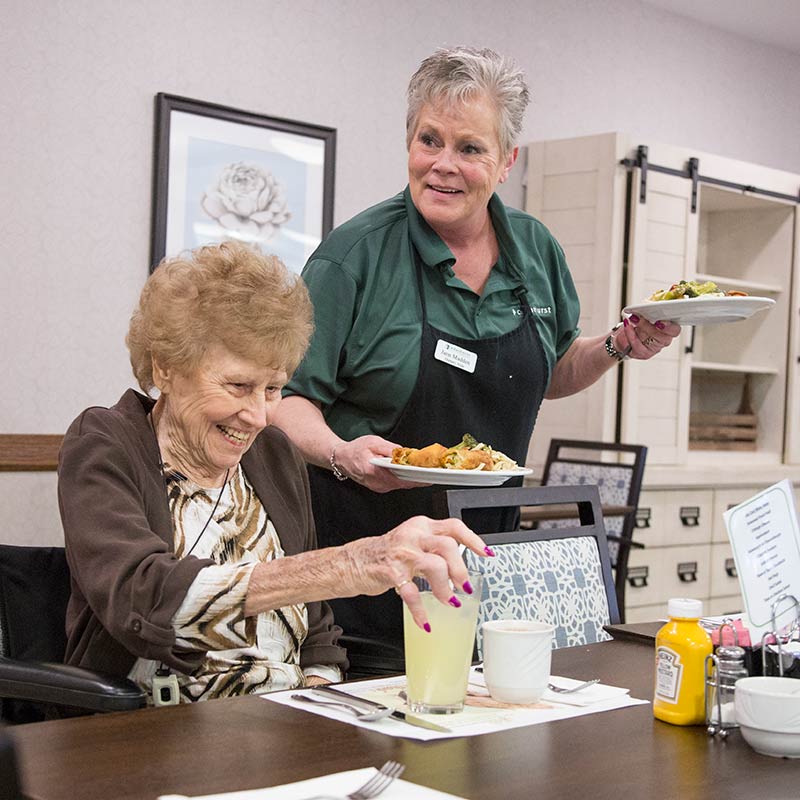 Cedarhurst, Owensboro
This brand new Cedarhurst community strives to include family members in the care of their loved ones. Educational groups and seminars are provided to involve family in care plan discussions, and family and friends are always invited to share a meal with residents. To keep seniors safe, certified caregivers are always present, and safety modifications include a 24/7 emergency call system, handrails, grab bars, proper lighting and flooring. Residents can receive any of three levels of care, from Supportive with in-person reminders to complete daily tasks; to Assistive with observation to ensure daily tasks are completed; to Comprehensive which means daily tasks are completed with the help of trained staff members. Amenities are plenty and include beautiful outdoor spaces with courtyards, raised beds for gardening, and an outdoor fireplace. Pets are welcome to join their owners at Cedarhurst.
Cost begins around $3,000 per month.
Heritage Place, Owensboro
Heritage Place is a single level senior living community near the heart of Owensboro. With only 68 apartments and 24- hour assistance, residents receive personalized care while staying active and social. To stay mentally and physically healthy, they can choose from a wide variety of activities including exercise and fitness classes, card games, happy hours, and book clubs. Medication reminders and assistance with activities of daily living are available at all times, and transportation can be arranged for local appointments.
Cost begins at $1,700 per month.
Daisy Hill, Versailles
At Daisy Hill, wellness is more than physical health – it is emotional, spiritual, and intellectual. Residents gather with friends during social hours, morning walks and movie nights, attend worship services at the onsite chapel, and have opportunities for continual Learning through workshops and guest speakers. Personal care assistance is available, along with access to local healthcare and therapy providers.
Cost begins around $3,500 per month.