Georgia offers a variety of benefits for seniors. The state does not tax Social Security retirement benefits and provides a maximum deduction of $65,000 per person on all retirement income for anyone 65 or older. Georgia also has no inheritance or estate taxes, and is known to have healthcare that is 9% lower than the U.S. average.
The state's SOURCE waiver program (which stands for Service Options Using Resources in a Community Environment) operates under the Elderly and Disabled Waiver and is designed to help seniors who require nursing assistance. After a comprehensive assessment determines eligibility, an individual care path is designed based on the requirements for medical monitoring and assistance with functional tasks. In addition to core services that can be provided at home, SOURCE offers personal support services, assisted living services, extended home health, home delivered meals, adult day health care, emergency response services and 24-hour medical access to a case manager and primary care physician. In order to qualify, single applicants must be 65 or older and have an income of $2,313 per month. Married seniors with higher incomes can transfer some of their income to their non-applicant spouse, not exceeding $3,160.50 per month.
10 Best Assisted Living Facilities in Georgia
Morningside of Columbus, Columbus
Housed in a charming Victorian-style building, Morningside of Columbus is a pet-friendly community complete with a fitness center, salon, library and elegant restaurant-style dining room. Residents also have access to beautiful outdoor living areas and walking paths, and transportation for errands and appointments is available. A trained staff of caregivers provide personalized care 24 hours a day to help with activities of daily living.
Cost begins at $3,100 per month.
Hollander Sandy Springs, Atlanta
Hollander is a quiet community located 10 miles from downtown Atlanta and blocks from Northside Hospital. Residents love the onsite aquarium and aviary, along with raised gardens for doing their own planting. They also enjoy plenty of social activities and organized games, as well as group outings like a weekly Lunch Bunch program. To make their apartments truly feel like home, seniors can furnish them as they wish, and most have their own patio or balcony. Best of all, residents receive 24 hour assistance and don't have to worry about home maintenance, landscaping, housekeeping, or cooking.
Cost for a private suite begins at $4,000 per month.
The Yellow Brick House, Lithonia
The Yellow Brick House was built as the private residence of Dr. Thomas Stewart in 1923, and is still owned by the Stewart family today. Operating as an assisted living facility since 1988, the cozy community provides 24/7 care to its residents as well as medication management, housekeeping, transportation, and three nutritious meals per day. Seniors enjoy a full schedule of onsite activities to stay fit and socially active, while off-site activities include movies, luncheons and tours of the area.
Cost begins at $3,300 per month.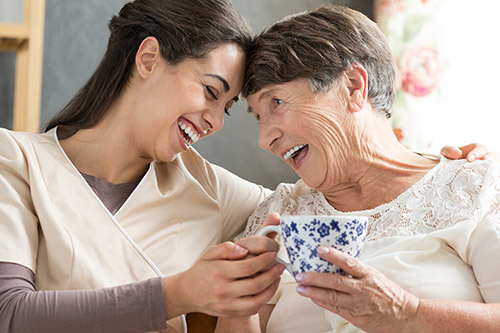 Manor Lake, Gainesville
Manor 90 residents have all they need to stay healthy while living their best life. A doctor comes in for weekly checkups, and physical therapists, occupational therapists, speech therapists, and licensed nurses are available as well. Each resident receives a pendant to push a button whenever he/she needs help throughout the day, which brings peace of mind to family members. Movie nights, themed bingo, fitness challenges, and trivia nights keep seniors engaged and active, while frequent trips to local grocery stores make residents feel independent.
Cost begins at $5,000 per month.
St. Francis Assisted Living, Macon
Residents of St. Francis love its bright, cheerful feel while receiving compassionate, individualized care. The convenient one-story layout of the building is easy for seniors to navigate, and each apartment is equipped with walk-in showers that have grab bars. To stay physically active, residents have access to state-of-the-art fitness equipment or they can take a walk with their pets through the outdoor gardens. And of course, help is available 24/7 if needed.
Cost is $2,200 per month.
The Social at Savannah, Savannah
While living at the Social, residents can venture out and tour Savannah's Historic District, which is the largest of any city in the United States. An extensive calendar of off-site and on-site activities is provided each month to meet the various interests and physical capability levels of residents. Whether they're line dancing, doing chair yoga, or enjoying a trolley tour of the local area, seniors in this charming community don't ever complain about boredom. Each staff member is NIDE (National Institute on Dementia Education) certified, bringing peace of mind to family members that loved ones will be taken care of as time progresses.
Cost begins at $3,510
Insignia, Newnan
Insignia of Newnan is a boutique-style assisted living community serving the Peachtree City area, which Where to Retire Magazine says is a top retirement destination. Each Insignia resident receives a lifestyle plan to meet their interests and abilities, and takes part in fun activities such as musicals, games, crafts, and shopping outings. The entire facility is easy for seniors to navigate, but help from a trained staff of caregivers is available around the clock.
Cost begins at $4,114 per month.
The Magnolia House, Conyers
The staff at Magnolia House has two simple goals: to provide comfort and companionship to its residents. The quaint Victorian home has an enchanting vibe that makes residents feel like they're right where they're supposed to be. Activities ranging from morning walks to art classes and book clubs allow seniors with various interests to stay engaged with their peers. And through volunteer opportunities with local charities, they are able to feel a sense of purpose.
Cost begins at $3,067 per month.
Kosta at Smyrna
With space to accommodate just six residents, Kosta at Smyrna provides personalized care in a tranquil, home-like environment. All bedrooms have cable TV where seniors can enjoy privacy, while several gathering areas allow residents to socialize while dining or participating in organized activities. Outdoors, there is a koi pond with a waterfall and a terrace with raised garden beds for easy planting. Certified caregivers are onsite 24 hours per day to help with activities of daily living and medication, and transportation is available for off-site medical appointments.
Cost begins around $3,000 per month.
Kennesaw Place, Kennesaw
Kennesaw Place is a pet friendly senior living community where providing compassionate assistance with daily routines comes naturally. It's right across from shopping and dining options, making it easy for residents to run errands or enjoy community outings. A full-time licensed nurse is available to provide clinical oversight of care while a team of caregivers provide assistance with dressing, bathing, and other essential daily activities. To stay physically and mentally active, residents participate in daily exercise classes and planned activities like Puzzles & Tea, TED Talks, and Spiritual Studies & Singing.
Cost begins around $1,600 per month.