Connecticut's Medicaid program (also called HUSKY Health) offers HCBS (Home and Community Based Services) Medicaid Waivers for seniors who require nursing home care but prefer to live at home or in an assisted living facility. To qualify for this service, the applicant must be 65 or older and have no more than $1,600 in assets as a single person or $3,200 for married couples. For those who qualify, the Connecticut Home Care Program for Elders (CHCPE) waiver covers some of the cost of living in a chosen assisted living facility. The program does not pay for room and board, but pays partial costs for personal care, housekeeping, meals, and transportation.
There are also five facilities that are part of Connecticut's Assisted Living Demonstration Project. A designated number of units at these facilities are reserved for those who qualify for subsidized rent and personal care.
10 Best Assisted Living Facilities in Connecticut
The Watermark at 3030 Park, Bridgeport
As a continuing care retirement community, seniors at the Watermark can transition from independent to assisted living and memory care without having to move. Trained staff can help with housekeeping, hygiene and medications, and residents can enjoy an onsite fitness center and spa. For a change of scenery, seniors can take a stroll around nearby Seaside Park or visit adorable animals at the local zoo.
Cost begins around $5,000 per month.
Spring Meadows Trumbull
Seniors at Spring Meadows are just five miles away from some of the world's best senior health services at the senior life center at Yale New Haven Health Park Avenue Medical Center. Residents at this pet-friendly board and care home love the smaller patient-to-staff ratio, which makes them feel like family rather than patients. Exercise is encouraged each day through yoga and balance classes as well as an outdoor walking club, and day trips are offered to make seniors feel like a part of the community.
Cost begins at $6,672
The Village at Mariner's Point, East Haven
Set on a hilltop overlooking the Long Island Sound, The Village at Mariner's Point provides a positive environment for keeping seniors physically and socially active. There's always something to do on campus, from visiting the movie theatre, meeting with friends at Mariner's Pub, getting pampered in the health spa, or taking a dip in the heated indoor swimming pool. Seniors also love the Village's "Live Now, Live Well program," which keeps their bodies and minds strong with exercise classes, book discussions, and group outings. Caretakers are always on staff to provide personalized help when needed.
Cost begins at $3,690 per month.
Brookdale Gables, Farmington
Brookdale Gables Farmington offers community-oriented living, allowing seniors to pursue their passions while enjoying professional care and support. There's plenty to enjoy onsite with planned activities, delicious restaurant-style meals, and even a fishing pond, but residents are also encouraged to join group trips to local parks, libraries, golf courses and restaurants in the Farmington community. In 2020, J.D. Power and Associates rated Brookdale as number 1 in Customer Satisfaction.
Cost begins at $5,171 per month.
Atria Stamford
Located close to Greenwich in downtown Stamford, Atria occupies a high-rise building with stunning views of Long Island Sound. Residents have many opportunities to enjoy active living, from learning new skills in onsite classes to taking group trips to New York City. Every apartment has internet connectivity and cable TV, and residents have access to a computer room. Caregivers are always on staff to offer assistance with medication, dressing, grooming, and scheduling physician appointments.
Cost begins around $4,000 per month.
River Ridge, Avon
Residents at River Ridge love dinnertime, with a full sensory experience as dishes are prepared right before their eyes! A beautiful outdoor patio and paved walking paths encourage neighbors to get out and enjoy the sunshine, while fitness and educational classes stimulate the body and the brain. Caregivers are always on site to offer a helping hand with getting dressed or maneuvering from one room to another, and transportation is available for venturing out to local shops and sites.
Cost begins around $5,100 per month.
One MacDonough Place, Middletown
Residents of One MacDonough Place benefit from a central location near Wesleyan University in a neighborhood full of wonderful restaurants and attractions. Onsite, seniors enjoy fitness classes such as chair exercises, Tai Chi and yoga. The facility also keeps residents socially active with in-house baking classes, book clubs and gardening workshops as well as outings to cultural events in town.
Cost begins at $4,100 per month.
Masonicare at Chester Village, Chester
Seniors at Masonicare who opt for assisted living receive help with bathing and dressing, medication management, 24/7 safety checks, and a registered nurse onsite. Concierge assistance is also available to assist with grocery shopping, pharmacy pickup, pet care, meal prepping, and more. For those wanting to get out and enjoy the city of Chester, the facility provides door-to-door transportation as well as scheduled trips to local shops and attractions.
Cost for a private suite begins around $4,700.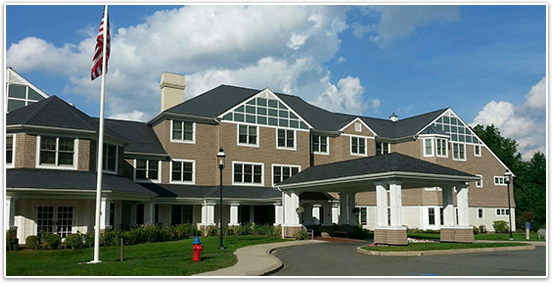 Hoffman SummerWood, West Hartford
As a private Hebrew Care Service, Hoffman SummerWood is guided by tradition of Jewish values. Residents live in cozy, secure apartments that have individual climate control and a 24/7 emergency response system, and three kosher meals are served fresh each day. Professional caregivers assist residents with personal needs and medication, and residents enjoy various activities that appeal to their interests. Whether they're gardening or knitting, or playing bingo or trivia, seniors in this community soon realize that when they made the decision to stop managing their homes, they opened up the opportunity to start enjoying their lives.
Cost for a private suite begins around $6,000 per month.
Benchmark at Split Rock, Shelton
Just minutes from Roosevelt Forest and Pequonnock River Valley State Park, Benchmark at Split Rock offers a warm, engaging environment where seniors feel right at home. Indoors, they find fun social activities such as Wii sports, book clubs, and fitness classes, and outdoors they enjoy ample walking paths and gardens. When residents are ready to venture out, transportation is available for browsing historic downtown. Benchmark offers four levels of Assisted Living care, which range from minimal reminders to total assistance.
Cost begins at $5,400 per month.