Retirees flock to California for its year-round beautiful weather and abundance of leisure activities. According to Genworth's Cost of Care Survey 2019, seniors can expect to pay around $4,500 per month for an assisted living facility in California. While this is higher than it is in many other states, California's Medicaid program (Medi-Cal) offers a waiver to reduce out-of-pocket costs for the elderly. This Home and Community Based Services (HCBS) waiver is not an entitlement program, so there are enrollment caps for program participation. If the cap has been reached, there may be a wait list.
Assisted Living Waiver Program (ALWP). Available in some areas of the state, this helps seniors who are eligible for nursing home care, but want to live in an assisted living community instead. Room and board are not covered, but some support services such as personal care assistance, medication administration, and prepared meals are. In order to qualify, a single individual's monthly income cannot exceed approximately $1,294, and the total value of their assets can't exceed $2,000. For a married couple, income must be under $1,747 and assets under $3,000.
Best Assisted Living Facilities in California
1. Ardent Care (Anaheim, California)
Seniors living at Ardent Care can take advantage of Anaheim's free and low-cost recreational programs while having close access to excellent medical care at West Anaheim Medical Center and the Anaheim Regional Medical Center. Ardent Care is a smaller, residential-style community where neighbors feel like family and caregivers are around to help 24/7. Both private and companion rooms are available, and each room has its own climate control. When residents aren't out enjoying the beautiful surrounding neighborhood, they stay busy at home playing games with peers, reading books in the library, or getting pampered in the onsite beauty shop.
Cost begins at $4,273.
Portola Gardens, San Francisco
Housed in a restored 1930s building in the Garden District, this mid-sized community is committed to providing the best value for seniors who love San Francisco. Residents enjoy group outings in the city, and can spend time with their small pets on the beautiful walking paths onsite. Every caregiver at Portola Gardens encourages residents to get up and get going in order to find joy and engagement each day.
Cost for a private suite is around $7,000 per month.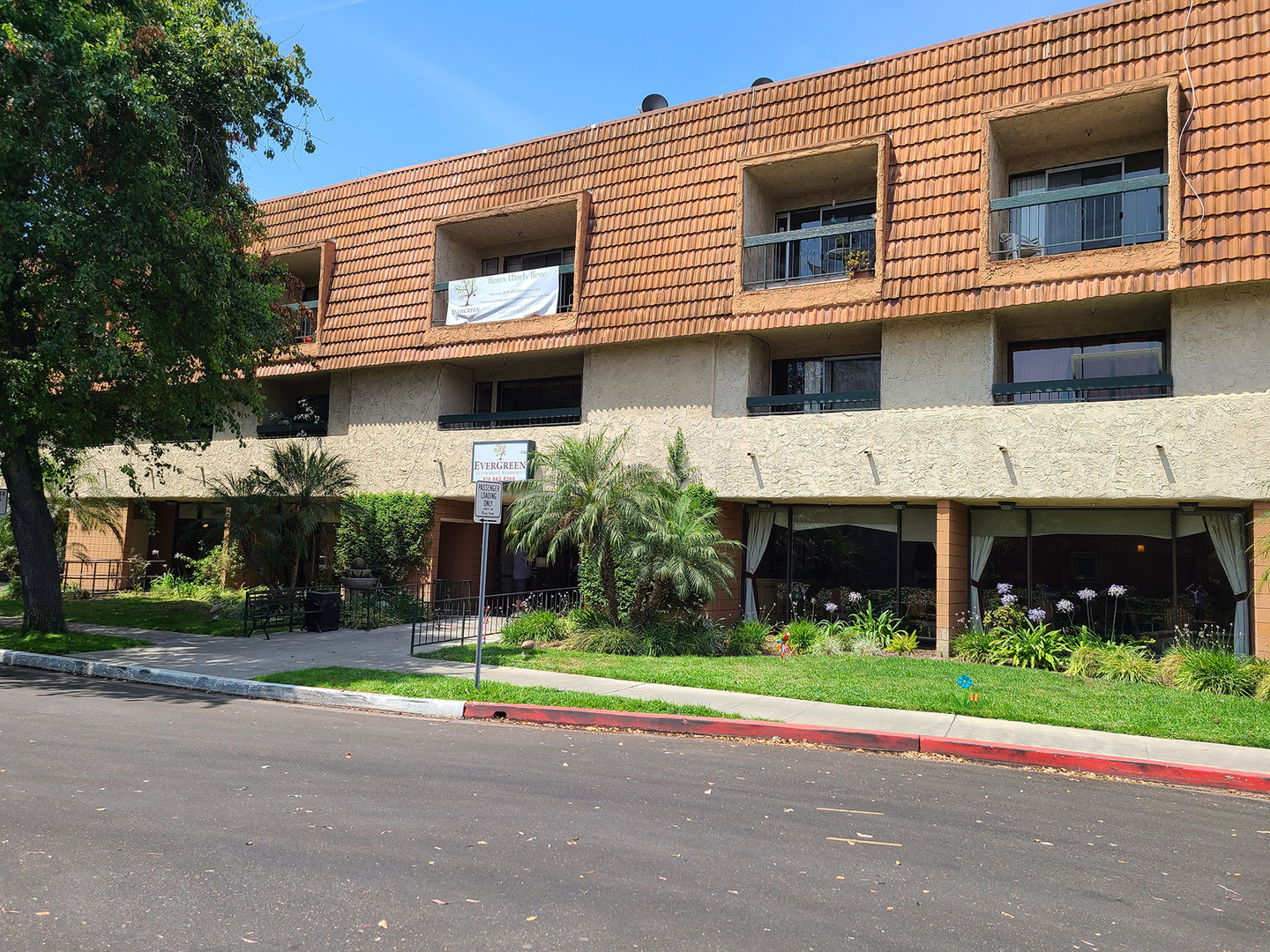 Evergreen Retirement Residence, Burbank
Although the Burbank area has so much to do and see, seniors who live at Evergreen never have to leave the building for entertainment. There's always engaging activities like crafts and games, ice cream socials, live music and exercise classes — something for every interest. And when residents need to see a hairstylist, optician, dentist, or podiatrist, they'll find one within the building! Each resident is treated as an individual with specialized care plans and meal plans to fit their dietary needs.
Cost begins around $3,500 per month.
Sunrise at Bonita, Chula Vista
With summer temperatures around 80 degrees and winter averages of 50, Chula Vista is the perfect area for seniors to enjoy year-round outdoor activities. Sunrise residents enjoy scheduled group outings to the beach and local shopping outlets, and a wide array of life-enriching activities onsite like floral arranging workshops and language classes. Seniors who live in this 88-resident community feel right at home, and family members love that they can view what their loved ones are up to via the family engagement app.
Cost begins around $3,700 for a private suite.
Twilight Haven, Fresno
Seniors love living in Fresno not only for it's warm, dry, and sunny weather, but also because its average cost of living is lower than most other California cities. Residents of Twilight Haven love that they can receive excellent 24/7 assistance from caregivers, three daily meals, recreational programs, and local transportation while continuing to live as independently as possible. Medicare recently gave the non-profit facility 4/5 stars based upon a collective measure of all-around quality, personnel evaluations, and health reviews. The facility accepts Medicare, Medi-Cal, and SSI payments.
Cost begins around $4,000 per month.
Atria Collwood, San Diego
Residents of Atria have regular opportunities to venture into town and shop or dine, but also have a lot to do at home. With a regular happy hour, Tai Chi classes, technology programs and an outdoor grill for social cookouts, seniors stay busy while receiving all the assistance they need. Caregivers are always around, and the staff helps facilitate scheduling and follow-up with physicians and therapists.
Cost is around $2,300 per month.
Paramount Court, Modesto
Located right in the heart of California's Central Valley, Modesto has a small-town atmosphere that many seniors love. Paramount Court catches the interest of many families seeking assisted living for their loved ones, because it strives to keep seniors involved in the local community. Fundraising projects, volunteer opportunities, and intergenerational programming allows residents to feel a sense of purpose. Within the facility, residents enjoy fitness classes such as strength training and yoga, and social events such as book clubs and d cocktail hour. Residents always have access to caregiver assistance while living in comfortable apartments that feel like home.
Cost begins around $3450 per month.
Sunrise of Hermosa Beach
Families of Sunrise residents love that there are two major hospitals nearby as well as licensed nurses on staff. The award-winning community is known for making seniors feel as independent as possible by creating an individual plan catered to their favorite activities, meals, and physical ability levels. Multiple apartment layouts help seniors choose what's best for them, and housekeeping, laundry and maintenance services allow residents to relax more than ever before. Since health and wellness is a top priority, nurses conduct monthly wellness visits, and residents are encouraged to attend exercise classes that improve mobility.
Cost begins around $6,000 per month.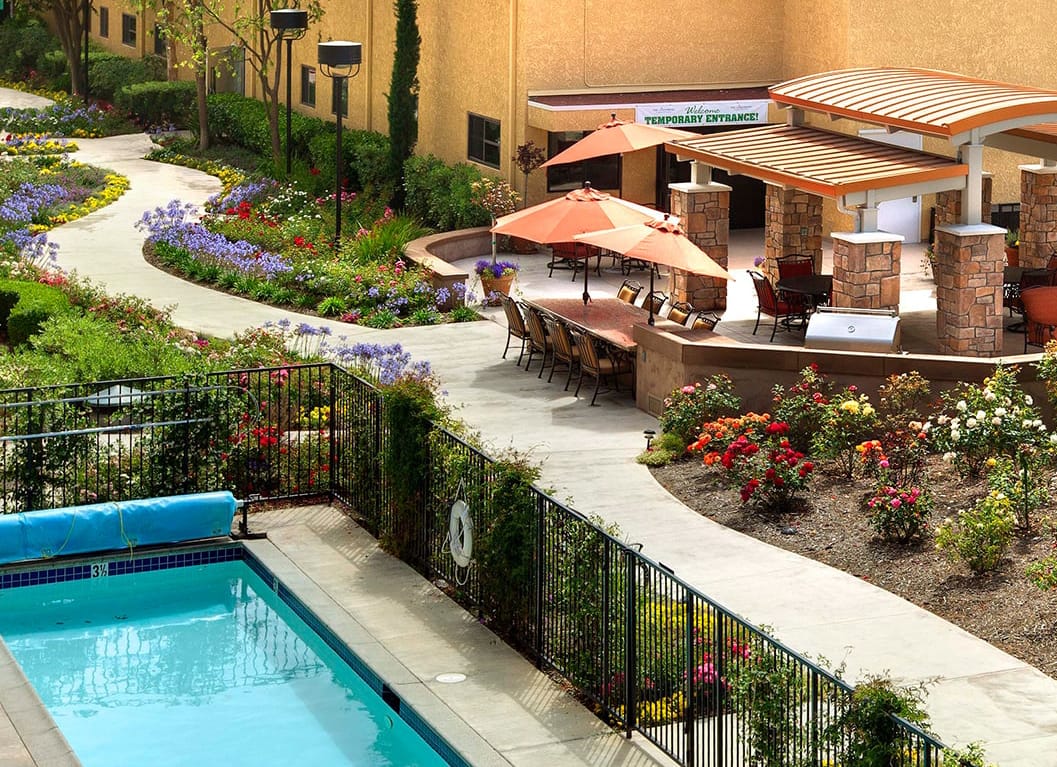 The Canterbury, Ranchos Palos Verdes
Perched on a scenic bluff in the rolling hills of Rancho Palos Verdes, the Canterbury is a not-for-profit, nondenominational Life Plan community owned and operated by Episcopal Communities and Services. The community is designed to promote healthy aging through a diverse range of cultural, social and physical activities and programs. Caretakers and nurses help with daily hygiene and medication management, and physical therapists are available to improve mobility.
Cost for a studio begins at $2,400
Silvergate San Marcos
Only around six miles from beautiful San Diego beaches, Silvergate is a beautiful place for seniors to retire. With a smaller number of residents than many other assisted living facilities, seniors receive personal attention in a family-like setting. Exercise classes and live entertainment are offered frequently, and a coffee and snack lounge is a great place to interact with peers. Residents always have access to a trained staff at all times to meet their personal care needs.
Cost begins around $2,800 per month.