While Meals on Wheels provides nutritious food and companionship to homebound seniors throughout the year, the holidays bring an opportunity to deliver them extra joy. Not every client has family with whom to spend Thanksgiving or Christmas, so they may not have a special meal or gifts to look forward to. With a little kindness from donors and local volunteers, Meals on Wheels programs all over the country are making a big difference in the lives of lonely older adults.
Meals on Wheels Orange County's Holiday Gift Program offers several ways to give this season. A donation of just $10 can provide a meal for Thanksgiving or Christmas, while a gift card given directly to the organization allows them to purchase critical necessities such as walkers, microwaves, fans, bedding, clothing, shoes and pet food many clients can't afford. And purchasing small items directly from Meals on Wheels' Amazon wish list sends gifts straight to their office so they can wrap and distribute them to clients.
Meals on Wheels San Francisco is asking people to make Thanksgiving cards to be delivered with clients' turkey dinners. They hope the colorful, cheerful greetings will make seniors feel less lonely as they enjoy their special meal.
On Thanksgiving morning in Tampa, Meals on Wheels volunteer drivers deliver individual-sized pies, handmade cards and other items to more than 800 homebound seniors. And each December, holiday gift bags filled with books, games, toiletries, calendars, socks, ornaments and healthy snacks are made possible through generous donations from the community.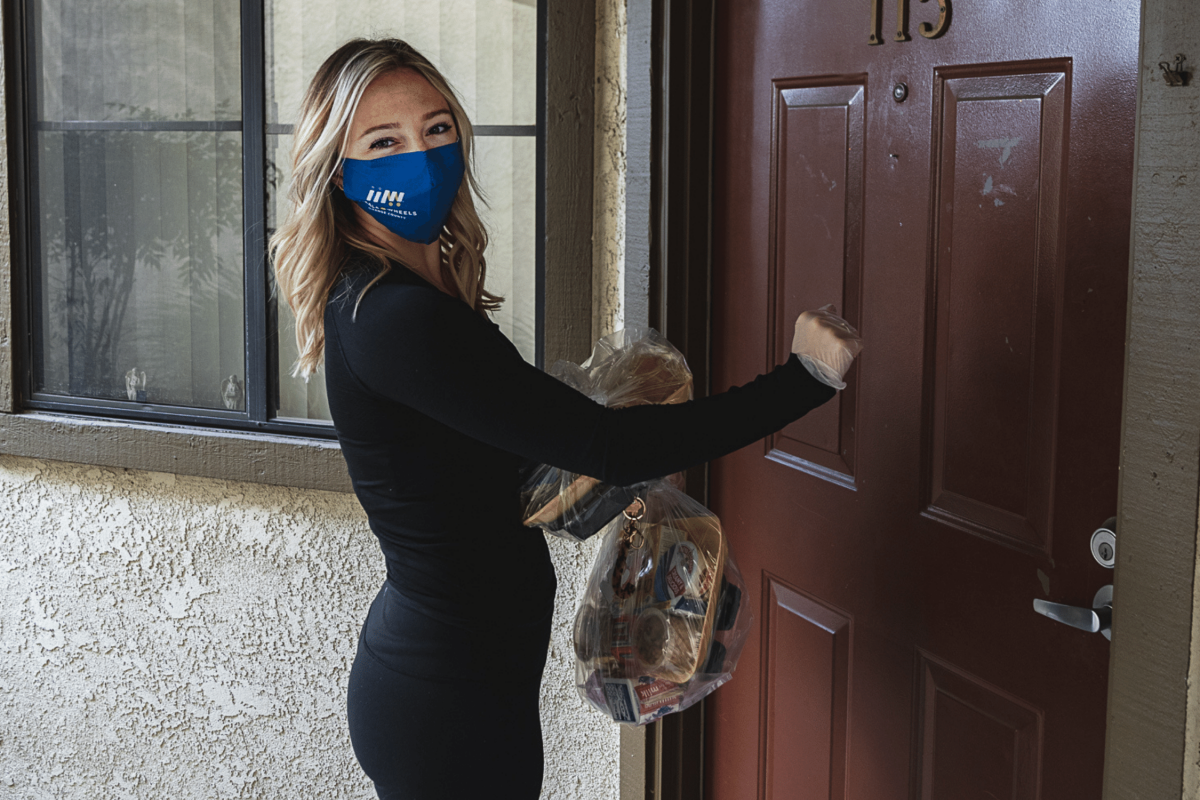 Meals on Wheels Chicago just launched their end of year campaign, Hunger Takes No Holiday, and is hosting 10 days of events and activities to raise funds for holiday meal deliveries. Donors can participate in an online auction, purchase raffle tickets, attend a trivia night, take an online cooking class, or order food from a number of participating restaurants who will give proceeds to Meals on Wheels. Chicago's home meal delivery program now serves more than 10,400 seniors and individuals with disabilities, a 67% increase in enrollment compared to last year's holiday season.
In Tarrant County, Texas, some Meals on Wheels volunteers have a weekly meal delivery route and purchase gifts for those clients whom they've gotten to know. For seniors who have not been "adopted" by a volunteer, the organization accepts wrapped gifts such as slippers, big-piece puzzles, suncatchers, fleece throws, adult coloring books and hand lotions. The Silver Santa Giving Tree is also a popular program, as it allows donors to meet the specific wishes of homebound seniors. Jordan Lyle, marketing and public relations specialist, said clients feel extra special when they receive something they really need or desire.
"Similar to the Angel Tree program for children in need, our Silver Santa Giving Tree features specific information about clients and their requests, which makes it a more personal experience," she said. "Donors see a name, age and background information such as whether the recipient is a veteran, along with a wish list. Some seniors request necessities such as walkers or hospital beds, while some simply want fresh flowers since they haven't received them in years. Our clients love knowing someone cares enough to buy them something they really want, and our community loves knowing they've made a difference in the lives of isolated seniors."
Want to brighten someone's holiday?
No matter what flavor the pie is or what's inside the package, lonely seniors love knowing someone thought of them during the holidays. Meals on Wheels has 5,000 programs around the country, so if you know of someone who could use extra cheer this season – or you'd like to volunteer your time or just donate to a great cause, find a Meals on Wheels location near you at MealsonWheelsAmerica.org.