If you're like me, you often struggle to find the best holiday gifts for the older adults in your life. And it doesn't help my parents always claim they don't "need" anything, making the search even more difficult.
What I've found is that my parents enjoy spending time with their children and grandchildren more than anything. So, instead of buying the practical gifts on their lists (my mom asked for a toothbrush two years ago), I started buying games the whole family could enjoy—all four generations of us. My family now looks forward to gathering around a game board or craft kit after each holiday meal.
If you're looking for gifts that encourage a little family engagement, provide entertainment and are more thoughtful than the typical gifts, browse our list of the best gifts to bring your family together this holiday season.
Arts & crafts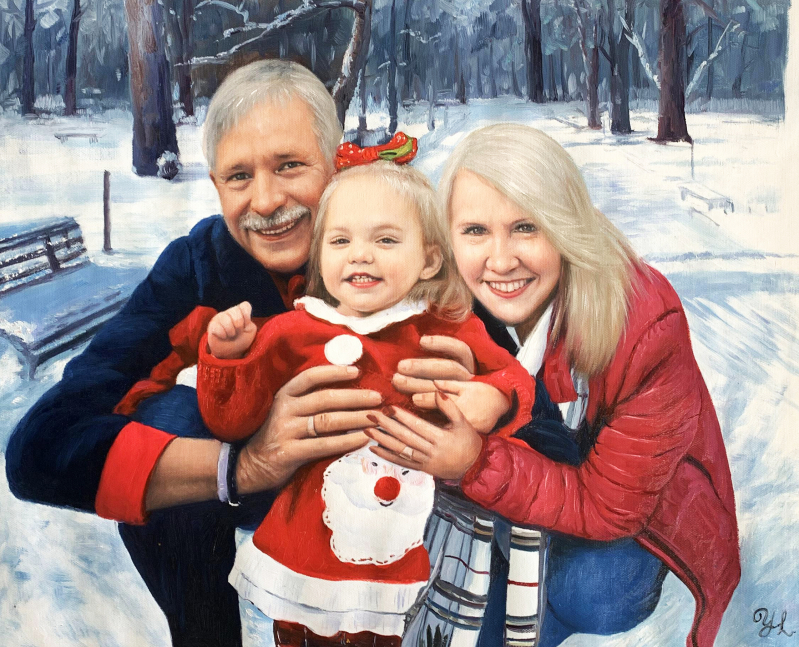 Shop Now
Starts at $39
Portrait company Paint Your Life turns any photo into a stunning painting, painted by professional artists. It's a great way to showcase special moments, family photos, honor loved ones or pets who have passed, and even turn vacation photos into gorgeous works of art.
Features:
Free online proofing
A 4.9/5-star rating on TrustPilot.com
Money-back guarantee
Free shipping
24/7 chat support
Orders placed now will still arrive in time for Christmas, but for a more exact shipping estimate, check out the table on the homepage of their site.
Editor's Note: Seasons' readers can use code GIFTME20 for 20% off now through January 2023.
Shop Now
$33.77 per box
Box subscription company Cratejoy offers something for every interest and hobby type, shipped from the U.S. to anywhere in the world. A subscription box that "builds your skills," the Cratejoy Craftsman Crate Box is great for people who enjoy working with their hands. Boxes include lessons and tools for activities like wood burning, string art, furniture building, chain mail creation, wood carving, mosaic making and more.
Features:
Real tools
Complete kits with everything you need
New projects each month
Step-by-step instructions for beginners to experienced makers alike
Shop Now
$29.99 per box
Another one of our favorite boxes from Cratejoy, the Home Made Luxe Box is for the art lover in your life. This monthly box promises to deliver "gorgeous Pinterest-inspired projects" like alcohol ink painting, jewelry making, string art, wire art frames, mason jar organizers, seasonal décor and more.
Features:
All craft materials needed
Step-by-step instructions
Video tutorials
Cratejoy offers monthly subscriptions ranging from three to 12 months, or you can purchase only one month to try out the products before committing further. Orders placed before Dec. 16 will arrive in time for Christmas, and the first crate delivered as a gift will arrive wrapped so as not to ruin the surprise.
Shop Now
Starting at $27.99
Connectivities' thoughtfully curated individual, group and sensory boxes include the tools to strengthen the bond between caregivers or other family members and those with dementia through activities that require concentration, problem-solving and teamwork skills.
The Winter Sensory Box helps relive the feelings, emotions and memories of winter and spark conversation and personal discovery.
Features:
All the materials needed for each activity
Step-by-step instructions with videos
Modifications for when activities are too hard or too easy
Specific therapy goals for each activity
Shop Now
Kits start at $59
Make-your-own pottery kit maker Pottery with a Purpose was founded to offer families a nondigital way to reduce stress, create art and spend time together.
I introduced my kids to the Beginner Pottery Kit – Air Dry to test out this kit going into the holiday season. I loved several things about this company, including its sustainability practices and cruelty-free, vegan materials as well as the air-dry clay options. We aren't experienced potters in my family, and I wanted something that could be finished in a day before family members left to go home.
Features:
Step-by-step, easy-to-understand instructions
Plenty of air-dry clay in resealable bags
Handmade wooden sculpting and carving tools
Natural Earth white paint
The only note of caution is around the stiffness of the clay. My kids all struggled to knead their portion of the clay and warm it up enough to mold it. For seniors who struggle with weak hand strength or symptoms due to arthritis, you may have to get their portion started and warmed up so it's malleable enough for them to mold.
Shop Now
$44.80
Another option for pottery making this holiday season, Crockd offers a wide array of kits, bundles and crafts for all levels and interests. The Crockd Pottery Kit is great for all ages and offers eco-friendly, locally sourced and easy-to-sculpt clay that can be kiln-fired or air-dried.
Features:
Step-by-step instruction guide
Instructions to build common projects like mugs, vases, candle holders and more
"Clay breaker" conversation cards
Wooden clay-sculpting tools
Free shipping on orders $45 and up
The Crockd catalog boasts a robust line up of colored paint kits, acrylic paint pens, silicone craft mats, clay bags and even gift cards.
Food & drink
Gift company Harry & David provides food and drink gifts for all occasions and offers everything from gift baskets, wine clubs, the Fruit-of-the-Month Club and even entire dinners.
The Grand "Thinking of You" Gift Basket offers a spread of savory and sweet snacks packaged in a beautiful fir wood crate with a chalkboard sign for a personalized message.
Features:
Cured meats
Cheeses
Crackers and snack mixes
Mixed nuts
Dried fruits
Chocolate cake, baklava, raspberry galettes, fig preserves
Harry & David also offers subscriptions at around $30 a month, which include free shipping on all orders.
Games & activities
A holiday-themed artwork puzzle could be a great option for a family-friendly activity this winter. The fireplace scene showcased in the JIGGY Artwork Puzzle is nostalgic, fun and great for all ages. As a bonus, this puzzle comes in a reusable glass jar and includes a puzzle glue kit to turn the finished product into a piece of art.
The innovative wireless tablet from GrandPad offers an easy way for loved ones to stay connected and never miss out on memories. Designed for seniors, the GrandPad makes it easy for older adults to stay connected to loved ones with call, email, photo and camera functionality as well as Zoom integration, weather data, games, mood sounds and much more.
Features:
Clear instructions on every side of the box, making unpacking and set up simple
Wireless charging station
Built-in wireless (no Wi-Fi needed)
Stylus pen
24/7 white-glove support
Bring the joy and rush of bingo to your home for the whole family to enjoy with this Deluxe Bingo Set!
Features:
Eight-inch steel rotary bingo cage
Master board
75 multi-colored bingo balls
50 large-print bingo cards
If your loved one enjoys telling stories, this could be a great game to share with the whole family*. Where Should We Begin – A Game of Stories encourages "thoughtful conversations through the power of storytelling." With no winners or losers, this game offers prompts and ideas to share stories and memories, and helps strengthen storytelling skills.
Features:
30 story cards with opening lines like, "I'll never forget the day that…"
250 prompt cards that set the tone for conversation like, "Share something that's changed your world view."
12 wooden tokens
*Game maker uncommon goods suggests this game is appropriate for those 18 and older.
Photos & video gifts
Shop Now
Starting at $49
A unique take on video memories, the Heirloom Video Book is an innovative, personalized and beautiful gift for older family members. Heirloom's mission is to "make it possible for special moments to be shared with family and friends" and has developed a video book to do just that.
Heirloom offers 10- and 20-minute video loops in a handheld, card-like book. I recently received a video book and was blown away by the video quality and sound.
Features:
Five-inch HD screen
Fully charged battery
16 different cover designs to choose from
Option to include a personalized message within the card
Card charger
Add a gift box to your order for only $12 and order by Dec. 12 for guaranteed delivery by Christmas.