Golden years, Autumn of life— many pleasant terms describe the time of life following retirement. Finding the right place to spend leisure years in your twilight may not sound as sweet. Older adults struggle to find available senior living options based on budget, location, amenities and level of care. Seniors in the LGBTQ+ community face further challenges to finding welcoming accommodations that meet their unique needs.
Some senior communities are designed specifically for LGBTQ+ adults, and other communities earn certification to show their commitment to the LGBTQ+ population. These accreditations are awarded by SAGECare (www.sageusa.care), a division of SAGE. This national advocacy and services organization has been dedicated to the care and success of LGBTQ+ elders since 1978. SAGECare certifications indicate that the administrators and staff of a senior community are trained specifically in LGBT aging cultural competency. Senior communities awarded the Platinum Level –the highest recognition available through SAGECare– are included in this review of the best options for LGBTQ+ senior living.
Continuing Care And Assisted Living Communities
Fountaingrove Lodge
Fountaingrove Lodge in Santa Rosa, California, is truly a continuing care retirement community (CCRC) specifically designed for LGBTQ+ residents. Housing is available for active and independent older adults with higher levels of assistance through specialized memory care as needed. Apartments feature granite countertops and high-end appliances. Amenities are also high-end with a fitness center, wine cellar, salon, gardens, and pool. Fountaingrove Lodge is pet friendly, and residents enjoy indoor parking. Fine dining, and weekly cleaning services make this community an excellent option for West Coast LGBTQ+ seniors.
Pricing begins at $3,597 monthly with entrance fee.

Stonewall Gardens
Stonewall Gardens in Palm Springs, California, is a smaller community with 24 units created for LGBTQ older adults and friends. Managed by Northstar Senior Living, Stonewall Gardens provides 24-hour nursing and wellness care. Planned daily activities and meals prepared by an on-site chef cater to any dietary or health needs. Homes feature beautiful outdoor spaces and private patios. Pets are welcome, too. This community just west of Los Angeles provides dignity and compassion for LGBTQ+ seniors that require full time care.
Pricing begins at $4,200 monthly.
Ingleside at King Farm
Ingleside at King Farm in Rockville, Maryland is a SAGECare Platinum accredited community offering aging in place for all seniors. From independent living apartments to specialty memory care and respite programs, Ingleside offers top notch facilities including indoor heated pool and spa, fitness center and library. Residents are treated to concierge services, flexible dining plans and weekly cleaning are included in their monthly fees. Scheduled activities include a book club, bridge games, and even musical theater. Ingleside prides itself on a culture of inclusion and diversity as essential to their success.
Pricing begins at $6,500 monthly with entrance fee.
Henry Ford Village
Henry Ford Village in Dearborn, Michigan is another SAGECare Platinum accredited community that offers continuity of care for older adults. The Village has independent living apartments, rehabilitation and assisted living housing. Residents stay busy with over 150 clubs, live entertainment, and even a putting green. Its Midwest location has 35 acres of lush landscaping and walking trails. Unique features include access to a private car and driver and tailored fitness programs. Recent changes in community ownership mean no entrance fees for new residents.
Pricing begins at $2,375 monthly.
Independent Living Apartments and Other Housing Options
The Merion
The Merion in Evanston, Illinois is the state's first SAGECare platinum accredited independent living community for seniors. They offer studio, one, and two bedroom apartments available unfurnished; partially furnished, and fully furnished. Units feature hardwood floors and ample closet space. LGBTQ+ seniors will love being just blocks from Lake Michigan. Dining services are available as well as social outings and planned learning activities.
Pricing begins at $1,675 monthly.
Birds of a Feather
Birds of a Feather in Pecos, New Mexico is a 140-acre gated community for LGBTQ+ older adults who wish to own a home rather than rent. Lots are available from .5 to 2.5 acres and feature beautiful mountain or meadow views. Choose one of their floor plans or custom design a home of up to 3,000 square feet. The community features many opportunities for socializing, walking and hiking trails, and is just minutes from the Pecos River. With 320 days of sunshine each year, you may just believe this makes a great forever home.
Lots begin at $59,000.
The Resort at Carefree Boulevard
The Resort at Carefree Boulevard in Fort Meyers, Florida is an LGBTQ+ women-only community of manufactured homes and RVs. With 278 lots, you can purchase an existing home or buy a lot for your own manufactured home or RV. Many home sites back to one of the two lakes in the 50 acres of manicured grounds. There is a pool, clubhouse, and many social activities are available. This community offers either full- or part-time independent living for lesbian-identified seniors.
Homes begin at $80,000.
Affordable and Low Income Senior Housing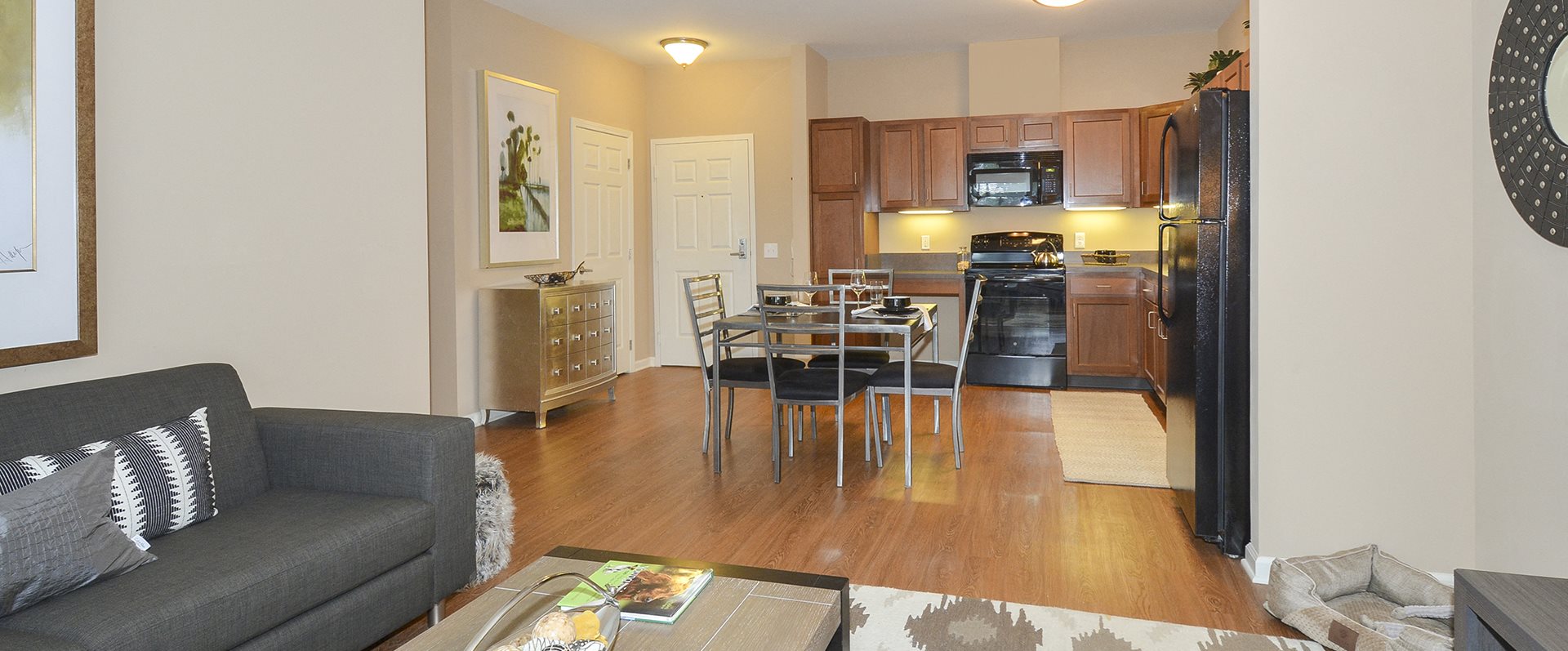 A Place For Us
A Place for Us in Cleveland, Ohio is the state's first LGBTQ-friendly Senior Housing Community. Built in 2017, these one and two-bedroom apartment homes are available for those 55 and better. Amenities include planned activities, library and fitness center. It is located near transportation and shopping. Pets are welcome.
Pricing begins at $600 monthly with income restrictions.
Town Hall Apartments
Town Hall Apartments in downtown Chicago, Illinois is an affordable housing community designed for LGBTQ+ seniors who enjoy the urban vibe. The apartments feature floor to ceiling windows and bright modern interiors. Amenities include a computer lab, laundry on each floor, and a senior center just across the street offering activities and assistance with social service programs. Studio and one bedroom apartments are offered for those 55 and older.
Pricing varies with income restrictions.
Rainbow Vista
Rainbow Vista in Gresham, Oregon is just as jubilant as its name. This LGBTQ+ senior community offers studio and one bedroom apartments to active seniors 55 and over. The location is less than a mile from shopping, and there is even a Farmer's Market. The park across the street offers annual festivals and beautiful grounds. Pets are allowed. This community does not offer income-based housing.
Pricing begins at $645 monthly.
The communities reviewed here are some of the best senior housing options uniquely designed with LGBTQ+ seniors in mind. Many price ranges and levels of care are available, and communities for LGBTQ+ older adults will only continue to expand across the nation.